This month Lakeside is introducing a new column, Wines, Vines & Brews, written by Don Duval. Our beer columnists, Michael and Sali Duling, are taking a break. A job promotion has led Michael to travel the Southeast, leaving him little time for his column.
We have all heard stories about businesses starting in someone's basement. Although you couldn't start a vineyard in your basement, you could learn how to ferment grapes and make great tasting wine there.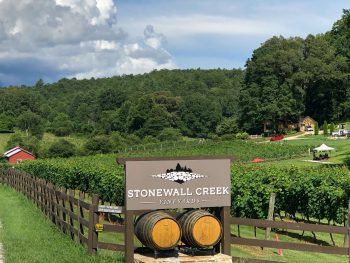 That's where this story begins for Drs. Mark and Sandi Diehl. They are the proud owners of Stonewall Creek Vineyards in Tiger, GA, about an hour drive from downtown Gainesville. Glassy Mountain serves as the backdrop for the vineyard and sits about 2,200 feet above sea level which is excellent for growing certain grapes. The first time my wife and I visited Stonewall Creek Vineyards in Rabun County, we immediately found the well-manicured vineyard and atmosphere extremely pleasant and the wines delicious.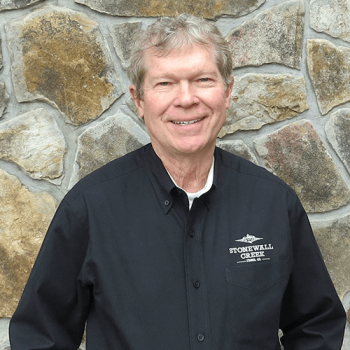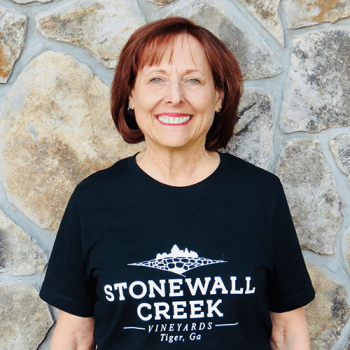 Winemakers to vineyard owners
Mark and Sandi's passion for home winemaking goes back to 2007 when they purchased grapes from Lodi, California, and began making wine under the label Due West Cellars. Sandi fondly remembers helping her grandmother make wine in 1979, so I guess you could say her blood runs Cab red. Their "hobby" was so successful they won a gold medal for their Cabernet Sauvignon and began educating other home winemakers in Cobb County. In addition, they participated in a three-year Wine Judge Certification Program and have served as wine judges at various U.S. competitions.
As Mark and Sandi continued to progress as home winemakers, they reconnected with Dr. Carl and Carla Fackler, Founders of Stonewall Creek Vineyards. Mark met Carl at Scottish Rite Hospital In the early 1980s while he was an orthopedic surgery resident. Carl was the attending orthopedic surgeon. In 2004, Dr. Carl and his wife Carla purchased the property that would become Stonewall Creek Vineyards and planted the first vines (Malbec). In 2014 they added a tasting room and outdoor courtyard that rivals those we have visited in Napa Valley.
As fate would have it, some 20-plus years later, Sandi read an article about Stonewall Creek and immediately recognized the names of Carl and Carla Fackler. Mark and Sandi began volunteering at the vineyard and grew in their understanding of the wine/vineyard business from planting to pruning to producing quality wines from local French Viniferous grapes. As Stonewall Creek thrived and became larger and more successful, Carl and Carla decided it was time for new owners who shared their passion and dedication to producing high-quality Georgia wines to take it to the next level. In September 2018, the Diehls purchased Stonewall Creek Vineyards and have been enjoying their venture ever since.
I sat down with the Diehls to talk about Stonewall Creek Vineyards and what makes it so special (of course while enjoying a flight of their wonderful wines). One thing that makes the vineyard and wines distinct is that all the wines are made from Rabun County grapes. Grapes are either grown on the vineyard property or come from nearby Stack Farms. They are also enthusiastic about the innovative three-wire trellis system developed with the assistance of the University of Georgia. The sprawling trellis, named Athena, increases airflow around the vines helping with humidity (which is not good for grapes) and increasing the yield. Rachael White, the vineyard manager, worked on the trellis project while attending UGA. Rachael studied viniculture throughout her college career and graduated from UGA with an M.S. in Horticulture in December 2019. Lastly, the Diehls think the breathtaking view, inviting atmosphere, and friendly staff (family) make Stonewall Creek a special place. After many, visits I concur.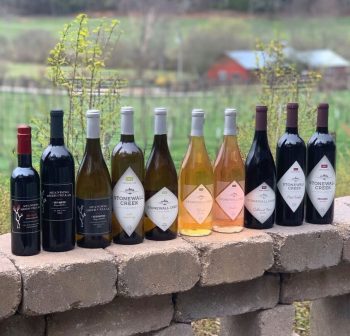 Mark and Sandi's vision for Stonewall Creek Vineyards is focusing on creating quality wines and continuing to make improvements and adjustments to the vineyard to get the best grapes. They also focus on educating customers about wine and food pairings through social media videos and interacting with customers in the tasting room. Lastly, they want everyone to feel welcome and relaxed while enjoying their wines. They also allow dogs on a leash.
Stonewall has something for everyone. Many choices at this boutique winery: red, rose, white, dry, semi-sweet, and dessert wines. Choose from five whites, four reds, one rose', and one port-styled dessert wine. Most of their wines are dry in a typical European style. Check out their website to get a full description of each and discover upcoming events and information.
Any time of year is great to visit Stonewall Creek Vineyards, but fall is harvest time and the crisp air is especially invigorating. Grab some extra bottles to share with friends and enjoy while capturing the sunset on the lake! Until next month, think global and drink local.
Don't Miss
The Atlantic Amber wine, a rare find in Georgia. It is made from estate-grown Petit Manseng (white) grapes skin-fermented like a red wine. It is dry, full-bodied, and flavorful.
Gail McDaniel's (tasting room and special event coordinator) homemade jelly made with Stonewall wine available in the tasting room.
Delicious food at Fortify and Fortify PI in nearby Clayton that feature Stonewall Creek wines.
Address: Stonewall Creek Vineyards, 323 Standing Deer Lane, Tiger, GA.
Phone: 706-212-0584.
Web: StonewallCreek.com.