In 2002, I won a sales trip to Napa Valley along with my better half; Mrs. Duvall. It was on that trip that we got the "wine bug" and a passion for visiting beautiful vineyards and developing a more refined palette.  However, Napa Valley can be expensive and is a considerable distance from Georgia, so imagine our pleasant surprise to discover wonderful vineyards in our own backyard! At that time, North Georgia had only a handful of farm wineries. Crane Creek Vineyards in Young Harris, one of the region's oldest farm wineries, quickly became and remains one of our favorites. To us, Crane Creek is like a trusted old friend. Even if we don't get to visit as often as we would like, when we do, we feel so welcomed and embraced!
Although I have not had the pleasure of visiting Italy, this vineyard is exactly what I would picture in Tuscany. The owners, Eric and Deanne Seifarth, spent time in northern Italy while Eric was stationed there as an officer in the U.S. Army. It was there where he grew to love the "old world" style of making wine and the process of winegrowing in three of the four major Italian wine regions: Tuscany, Veneto, and the Friuli.
Upon retirement, Eric settled back in his native Georgia and moved to the North Georgia mountains with Deanne, a full-time veterinarian, to embark on a second career making fine wines. They planted their first grapevines in 1995 and opened Crane Creek Vineyards in 2000.
The boutique winery flourished, and now 25 years after planting those first vines, Eric's son Peter, a theater major who graduated from Coastal Carolina College, has taken on a new leading role as head assistant  winemaker at Crane Creek Vineyards. His charming wife, Jess, who also studied theater, plays many roles at the winery and can be found behind the scenes cleaning during the winemaking process, serving as a field hand, or on center stage welcoming guests and introducing them to delicious wines by the flight, glass, or bottle.
During a recent visit to Crane Creek Vineyards, I had the pleasure of talking with Peter about his role and vision for the future of Crane Creek. Without hesitation he shared that his vision is, "to offer a humble and relaxed atmosphere for everyone." Crane Creek strives to offer a selection of wines so that there is a wine for every visitor to enjoy. Over 90 percent of the wines are made from estate grapes, so they plant new vines every year to keep up with increasing demand. Something I greatly appreciate is their commitment to keeping their wines affordable so they can be paired with family meals or enjoyed during various occasions.
David Sanford, part of the Crane Creek "family" and host extraordinaire once shared that they focus on "good wine, good times, and good friends." This is certainly the case! The various outdoor seating areas with beautiful mountain and vineyard views provide a space for everyone to rest, relax, and rejuvenate over nice wine and even a game of Bocci ball. Years ago, my wife and I sat ourselves in their Adirondack chairs to share great Crane Creek wine and loving memories of our dog, Max, who had just passed away. Somehow spending a little time at the vineyard that day helped us through that difficult time. At other times we have witnessed a joyful wedding proposal, enjoyed various special events, and taken many friends to experience the Crane Creek hospitality and charm, and of course, the "vino delizioso!"
Upon our recent visit, there were 14 wines available to taste and enjoy: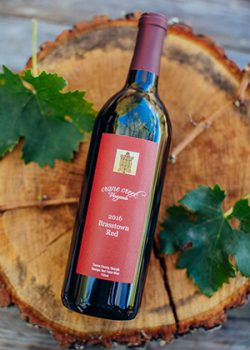 • Three dry whites: Gruner Veltliner, Zusa, and Enotah.
• Two off-dry whites: Traminette and Vidal Blanc.
• Two semi-sweet: Apfelwein and Mountain Harvest White.
• One dry rose: Villard Noir.
• One semi-sweet rose: Mountain Harvest Blush.
• Two dry reds: Raven and Noiret.
• One off-dry red: Mountain Harvest Red.
• One sweet red: Red-Headed Stepchild (I like this one chilled).
• One dry Bubbly: Sassafras
Peter is currently creating some "small batch" wines. The next produced will be about 300 bottles of a sparkling red. As far as total annual production, Peter said Crane Creek produces about 5,000 cases of wine a year, consistent with a mid-size boutique winery. Future plans include a new Tuscan styled tasting room with a target date of Spring 2021. The building is already complete and sits on top of a hill overlooking the beautiful vineyard. COVID-19 caused a small lull in business, but business has picked back up during the fall with plenty of room to spread out at the vineyard. There is also an on-site restaurant, Paris & Company, that is described as fabulous.
Quick Facts: Crane Creek Vineyards, 916 Crane Creek Rd., Young Harris, GA 30582. 706-379-1236.
Tasting room hours: Tuesday-Saturday, 11 a.m.-6 p.m., Sunday 1 p.m.-5 p.m., closed Monday.
Website: www.cranecreekvineyards.com.
Photos: Courtesy of Crane Creek Vineyards
Many years ago, it was Eric who taught me my tagline for this column: "Think Globally, Drink Locally!"