Noble Wine Cellar checks all the boxes: wine, mead, and craft beer. The charming tasting room also offers locally crafted products such as my wife's favorite, Bee Happy Honey Lotion. Everyone can find a warm welcome and something great to drink at Noble. Noble offers dry to sweet wines, mead, and a good selection of craft beers.
Recently, I talked to Jabe Hilson, the winemaker and owner of Noble Wine Cellar. His vision for Noble is to offer high-quality wines made from grapes grown in the region. Customers who typically ask for a familiar wine such as Cabernet Sauvignon or Chardonnay are pleasantly surprised when Jabe exposes them to an excellent local wine based on their preferences. When tasting new wines, he recommends putting aside any inhibiting factors or preconceived notions about regional wines. Jabe works with a few local vineyards to produce select grapes each year. Local wines from Noble are unique based on the local grapes and Jabe's winemaking experience and craft.
Jabe views himself as a craftsman. He studied as an artist in college and made a slight switch to graphic design shortly after. He later moved with his delightful wife, Barbara, to teach English in Japan. Upon their return to the U.S., they decided to live in a small town in Rabun County, Ga.  Barbara continued her vocation as a teacher, and Jabe found part-time work at Tiger Mountain Vineyards.  After a summer at Tiger Mountain, Jabe moved to a different full-time job. However, three years later Tiger Mountain Vineyards' owner, John Ezzard, asked Jabe to join them in a full-time, multi-faceted position as the "Manager." Jabe chuckled during our conversation that the manager duties were multi-faceted indeed, in that sometimes toilet cleaning was one of the facets. Opportunity presented itself when the winemaker left, and Jabe took over that role. He found he had a lot of freedom in his new winemaking position. When I asked about his biggest "take away" from Tiger Mountain Vineyards, he shared that at that time the wine region of northeast Georgia and western North Carolina was in its infancy, and he learned to "work on what grows well." Over the years, his knowledge and understanding of what grows well has increased, as has his experience and that it takes about 10-15 years for a new vineyard to make a profit growing grapes. In light of one of their greatest challenges in 2020, four different frosts, in which Franklin, N.C. vineyards lost 50- to 70 percent of their grapes, Jabe was able to adjust and did not have to purchase grapes from other regions to make his wine.
Jabe uses grapes from the Upper Hiawassee Highlands AVA (American Viticultural Area) which is a federal designation and a clearly defined area. An AVA is a delimited grape-growing region with specific geographic or climatic features that distinguish it from surrounding regions and affect how grapes are grown. The Upper Hiawassee Highlands AVA was the first to be adopted in Georgia and designated around 2015. It includes three north Georgia counties, and two western North Carolina counties. Grapes which do well in the Upper Hiawassee AVA have thicker skins and break bud later in the year. Cab Sauvignon, Chambourcin, Petit Manseng and Traminette grapes grow well in this region. The hybrid grape, Marquette also has a good fruit quality and was developed for colder climates. The St. Vincent grape also interests Jabe since it has a good yielding, loose-cluster fruit and a nice fruit profile, like a chianti. Jabe says he strives for the best quality grapes in the region when making his wines.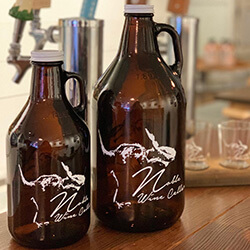 A unique feature of Noble Wine Cellar is they offer Mead-honey wine. Mead is considered to be the oldest alcoholic beverage in recorded history, with origins in European, African, and Asian societies dating back 6,000 years.  Mead is created by fermenting honey with water and sometimes with various fruits, spices, grains, or hops. The defining characteristic of mead is that the majority of the beverage's fermentable sugar is derived from honey. I asked Jabe how he became interested in mead, and he said again, opportunity presented itself, so that when he and his wife Barbara opened the Noble tasting room/store, the idea of selling their own wine was a priority. To attract customers to their downtown location in Clayton, Ga., they also made the decision to include products made in Georgia in addition to wine. In the process, they found a good match in Blue Haven Bee Company of Canon, Ga. When Jabe contacted them about selling their high-quality honey and skin care products in the store, the owners at Blue Haven asked Jabe to make mead with their honey based on his winemaking skills. The first batch was a huge hit! It quickly sold out. My wife and I found Noble's mead wine a surprising new favorite since our taste for wine is pretty traditional. Jabe's mead can be found at the Noble Wine Cellars tasting room, Blue Haven Bee Company, and Savannah Bee Company. The Southern Origin Meadery is located at the Blue Haven Bee Company.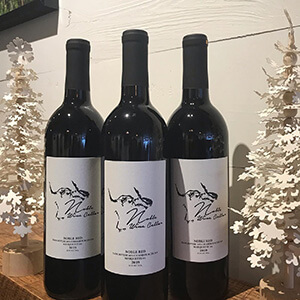 So, what is new for 2021 at Noble Wine Cellar? A small batch of a newly released red blend with grapes from SenAmore Vineyard and Farms (not open to the public).  Also, try Noble Red – a medium-bodied Sangiovese, Marquette (accent grape), and Chambourcin. It is hands down, one of our favorites in Georgia! For white wine drinkers, Noble has a delicious Traminette and Petit Manseng made from estate-grown grapes from which to choose. You will also find other fine wines to treat your palette. Don't forget the craft beer selection which is always a hit. Jabe is also working on a sparkling wine to be released in the near future. Take a day trip to charming downtown Clayton, Georgia, and enjoy a red, white, mead, or brew from Noble Wine Cellars.
Details
Noble's tasting room: 58 North Main Street, Clayton, Ga.
Phone: 706 212-0407
Hours: Mon., Thu., Fri., & Sat. 1 p.m.-6 p.m.
Also available on Facebook (@noblewinecellar) and Instagram.
Blue Haven Bee Company and Southern Origin Meadery: 2069 Bond Ave Canon, Ga.
Phone: 706 245-6586
Photos: courtesy of Noble Wine Cellar