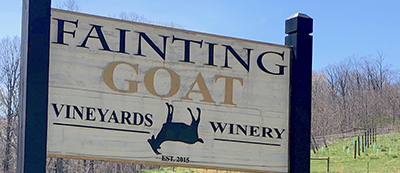 Looking for a place to escape within an hour drive from the lake?  I have a recommendation for a vineyard with good wines, a beautiful mountain view, and fainting goats.
Yes, fainting goats. Really.
Fainting Goat Vineyards and Winery just northeast of Jasper is about an hour drive from Gainesville. My wife and I recently took some friends who had not visited there before. They liked the view and the wines. The vineyard has an abundance of tables outside for all to enjoy some wine and snacks.
Fainting Goat Vineyard, located in the foothills of the Appalachian Mountains, is owned and operated by Dave and Robin Higginbotham.  They bought the land at the top of a mountain around 2010 with the vision to open a vineyard and winery.
They got to work planting vines and building a spectacular tasting room. The deck on the end of the tasting room offers beautiful views of the surrounding mountains and valley. From conception to crush, the grapes are gently cared for and wines are handcrafted.
Taking a minimalist approach, they specialize in producing small lots of high-quality wine. Their focus is to produce the best possible fruit to work with.
So what about that name? Well after one of those long, hard days of vine work, the couple climbed to the top of the mountain and felt like fainting. From there the nickname, Fainting Goat, was born.  And are there goats? Yes, Ronnie and Reagan are two mature goats who live on the property. They also have two baby goats, Dolley, and Mamie. Visitors are welcome to pet and play with them.
And yes, they really do faint! Myotonic goats are known as "fainting goats" because when something surprises or frightens them, their muscles go stiff for a short time, and they fall over. The reaction doesn't hurt them, and it is not really fainting. Usually, the animal stays awake and just bounces back up once the stiffness goes away. At the vineyard, the goats are protected by two Great Pyrenees dogs, Teddy and Rosie.
Eighty percent of the grapes to make their wines are Georgia grapes. The other 20 percent are mostly from California. Robin and Dave's daughter McKenzie is the winemaker. Upon our visit, each of us tried a tasting of four wines for $10. They feature dry to sweet, and both whites and reds. I spoke with Allie at the tasting room, and she said they are known for their Bordeaux reds. We liked all the wines we tasted, and our favorites were the Independence Chardonnay and the Republic Barbera (Gold Medal). Also of note is their flagship wine, 1812 (Gold Medal), a blend of cabernet sauvignon, merlot, and malbec.
Robin and Dave built Fainting Goats to also appeal to people who love the outdoors. There are many areas to hike and enjoy outdoor activities around the winery. If you plan a visit, children accompanied by adults are welcome but keep in mind the winery is geared toward adults. Leashed dogs are also welcome. Food is not served but you are welcome to bring a picnic basket, or your own snacks. The winery typically has live music from 1:30 p.m.-5:30 p.m. on Saturdays and Sundays. Allie also recommends the Old Mulehouse in downtown Jasper for lunch and dinner. The Old Mulehouse serves several Fainting Goat wines.
For more info:  FaintingGoatVineyardsandWinery.com, or call 706-692-9463.
Photos: courtesy Fainting Goat Vineyards and Winery