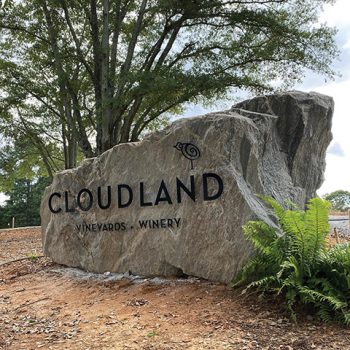 A vineyard and winery in south Hall County is exciting news for casual connoisseurs like myself looking for locally made fine wine.  Upon visiting Sean Wilborn, I learned a few interesting things about this South Hall Terroir. Terroir, a French term, is defined as the complete natural environment in which a wine is produced, including factors such as the soil, topography, and climate.
Even though I grew up in Georgia and boating on Lake Lanier, I didn't know the Eastern Continental Divide runs through Hall County. Sean's vineyard, Cloudland Vineyards and Winery, lies right in the middle of that Divide. Rain falling on one side eventually makes its way to the Atlantic Ocean, while rain on the other side of his property ends up in the Gulf of Mexico. The Divide is the first ridge rising from the Piedmont Plateau. In order to pass the "Sean Test" to grow good grapes, the land needs good air circulation. There is a constant breeze at Cloudland. Second, on Sean's list is good drainage, and Cloudland checks that box as well. Third, the property needs to get plenty of sun exposure, and Cloudland gets eastern and western exposure.
As a young person, Sean loved to garden which explains his passion for growing grapes and making wine. He is a Level 1 sommelier. Sean's experience includes time at both Chateau Elan and the Winery at Biltmore Estate in Asheville, NC. He believes in sustainable agriculture which means growing grapes to make wine utilizing methods that will not compromise the future of the land to produce more grapes. He also practices organic methods in growing grapes.
Other than the treated wood used for posts and trellises in the vineyard, everything else is organic. Instead of spraying the vines and grapes with insecticides and herbicides, he uses bee nets to keep insects and birds away from the grapes. Sean's expansion vineyards will not utilize treated wood as posts and will be organic certified.  All the wine produced at Cloudland is from estate-grown grapes. To increase his harvest in the near future Sean will partner with local families with good land suitable for growing grapes.
Sean planted Cloudland's first vines in 2015. His first vintage will be from the Lomanto grape. I was not familiar with this grape but if I described it, I would say it lends itself to a red wine that people who drink either red or white will enjoy.  I drink more white wine, but with a chill in the air for fall I bring reds back into my rotation. Sean's first vintage will be from 2018 and 2019 estate grown Lomanto grapes.
This grape is a Pierce's Disease tolerant red wine grape that was developed by Thomas Volney Munson in 1902. The rich flavor comes from the marriage of the Malaga and Salado grapes. In addition to being disease resistant, the grape also has high-quality potential. Wine made from these grapes has a wonderful fruity fragrance as you smell the wine before tasting. If you are pairing with food, Lomanto is a perfect match for tomato-based pasta such as lasagna as it is fruit-forward with moderate tannins.
Also consider enjoying the wine paired with a steak topped with blue cheese, barbecued pork, grilled vegetables, or your favorite salsa. Wine made from the Lomanto grape is one of the prettiest, deepest purple of wines I have ever seen. Some describe the wine as moderately bold, rich, and juicy with a smooth finish. The 2018 and 2019 vintages are aged in French oak, while the 2020 vintage will be aged in Georgia oak.
I like Sean's approach to one's visit to Cloudland. He wants visitors to experience the farm aspect of the origin of the wine. That ranges from enjoying a glass in the tasting room or outside under the large oak tree viewing the vineyard. In addition, you can arrange to spend time with him and his staff to understand all that goes into growing grapes and making fine wine. Simply put, one can have a high touch experience from vineyard employees or a low touch experience. Little interaction with the staff or more in-depth interaction; the choice is yours.
You will want to make a reservation to ensure the best experience. Sean's general manager of the winery is Blessy Devasia and she is a total delight. They met and worked together at Chateau Elan. They are friendly, inviting, and of course passionate about making good wine. Cloudland's target opening date is October 16th.
Check them out on Instagram to get tickets for the opening. You can also find them on Facebook.  Cloudland is located at 3796 North Bogan Road, Buford, close to I-985 at Exit 8. Until next month, think globally and drink locally.
Cheers!