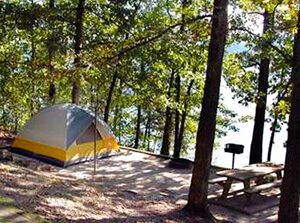 After being closed for safety repairs and storm damage clean-up for more than two years, Old Federal campground has reopened. This popular overnight site and the six other US Army Corps of Engineers campgrounds at Lake Lanier are now open, as of March 24.
"We've addressed the storm damage and erosion from two years ago," said Chief Ranger Chris Arthur with the Corps of Engineers. "Half of the Old Federal campground was reopened in 2021, but we need the lake level to be a bit lower to address all the erosion that was caused."
At press time, Arthur said that rip-rap has been installed on about 90 percent of the shoreline at Old Federal. The park has been cleaned up and is fully operational. Signage has been posted
Each of the eight campgrounds is staffed with at least two hosts.
The campgrounds are:
– Bald Ridge Campground, Bald Ridge Road, Cumming
– Bolding Mill Campground, Chestatee Road, Gainesville
– Duckett Mill Campground, Dawsonville Highway, Gainesville
– Old Federal Campground, G.C. Road, Flowery Branch
– Sawnee Campground, Buford Dam Road, Cumming
– Toto Creek Campground, Toto Creek Park Rd., Dawsonville
– Van Pugh South Campground, Gaines Ferry Rd., Flowery Branch
"Our campgrounds are going to be busy this year," Arthur said. "Reservations are filling up fast, so we suggest that people make their plans early."
The Corps of Engineers uses a centralized website for reservations; visit www.recreation.gov or call 877-444-6777.