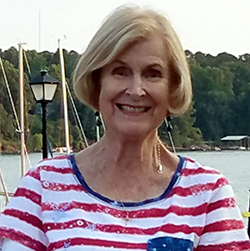 Ninety-one-year-old Sue Diamond only needed to be asked once to agree to compete in Dancing Stars of Atlanta in May. Not only does she love to dance every chance she gets, she also says she's thrilled to be raising funds for the Alzheimer's Foundation.
"I've always loved to dance and even took ballet and tap when I was in grammar school," she said. "When this opportunity presented itself, I immediately said yes and it's been such as good decision for me."
A member of University Yacht Club for nearly 50 years, she's the first one out on the dance floor when the music starts.
"Sue can get the crowd up dancing whenever we have events at UYC," said Rick Smith, former UYC Commodore and one of the members of "The Diamond Club." "Her energy and enthusiasm are contagious. She's the first one up and the last one to leave the dance floor when the music stops. And so many people are cheering her on."
The Flowery Branch resident has been rehearsing with her professional dance partner, William Allison, since before Christmas, going to the Fred Astaire Dance Studios once a week in Duluth.
Diamond's friends across Atlanta have jumped in to support her campaign, donating money through her dancer's page at https://act.alz.org/goto/suediamond.
"My goal is to raise $50,000 and as of the end of March I was halfway there," she said. "People are donating in honor and in memory of family and friends, many who have lost loved ones to this disease. Others say they are just happy to support me and are so proud of me for participating."
Diamond hopes to follow in the footsteps of Linda Schoepf, the winner of the 2021 Dancing Stars of Atlanta virtual event. Schoepf, also a member of University Yacht Club, competed against nearly a dozen Star Dancers, all performing in remote locations via internet connections. Schoepf is one of her strongest supporters, along with Diamond's best friend Carol Gibson.
A former Delta Air Lines flight attendant, Diamond also worked in television advertising as a secretary, at Tour Gals of Atlanta, plus in retail and at a dentist's office. She was married to her first husband, Bob Schuessler, for 15 years. She has three children, three grandchildren and three great-grandchildren. She was married to her second husband, Lyle Diamond, for 45 years before he passed away in 2015.
Active in many community organizations, she is a member of Buford Lanier Woman's Club, University Yacht Club and Covenant Life Church.
"In my free time, I enjoy playing board and card games and, of course, dancing," she said. "I love all music, including country, pop, opera and musicals. My favorite is anything by Frank Sinatra."
Diamond has been secretive about her costume for the competition, but recently she revealed that her choreographed dance will start with a foxtrot and transition into a jitterbug/salsa fusion.
She's participating in Dancing Stars of Atlanta in memory of her friends Bill and June Saunders and Marilyn Fisch Putnam.
"If I had a super-power, it would be to wave a magic wand and rid the world of Alzheimer's and related mental disorders," she said. "I just can't wait for the competition, and I'm having so much fun. I'm also grateful for all my friends and supporters, especially those at UYC who help keep me young."
For the past 11 years, the Georgia Chapter of the Alzheimer's Association has hosted Dancing Stars of Atlanta. This year's goal is $1 million.
"We always come very close to reaching our goal but have never crossed that line," said Wakeelah Abdullah, development director of the Georgia Chapter.
Abdullah said that Sue will represent a milestone in the competition this year.