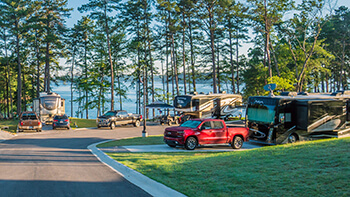 The RV resort at Margaritaville at Lake Lanier Islands recently received a "Shining Example" award from the Lake Lanier Convention & Visitors Bureau.
The award was one of six presented by the organization in various categories to highlight the accomplishments of tourism industry professionals.
During the awards ceremony, Stacey Dickson, president of the Lake Lanier CVB, said, "Margaritaville has flipped the script on visitors' expectations and completely reinvented the camping game. The new Margaritaville Luxury RV Resort has proven to be a great addition to our beautiful lake's amenities – and it saved the day in 2020 when visitors turned to safer and more socially distanced means of travel."
Bucky Perry, vice president of Margaritaville at Lanier Islands, was on hand at the ceremony to accept the award. "We are honored to be recognized by the Lake Lanier CVB as a shining example. Margaritaville is more than a place – it's a state of mind. The reception from our guests has been excellent, and we look forward to continuing to become a special tradition shared by friends and families throughout the Southeast."
The RV resort, featuring 128 camping sites, opened in 2019. The sites offer lakefront views, 30- to 50-foot concrete pads, full hook-up for water and power, on-site sewer, picnic area with a grill and fire pit, complimentary Wi-Fi, and cable TV. Guests can enjoy shared amenities like deluxe restrooms and showers, laundry facilities, an upscale outdoor kitchen, golf cart rentals, and camp store. The property is pet-friendly, allowing two leashed pets per site. Guests staying at the RV resort can also take advantage of all the activities Margaritaville at Lanier Islands. To learn more about the RV resort visit MargaritavilleRVresorts.com.
Photo: courtesy Margaritaville