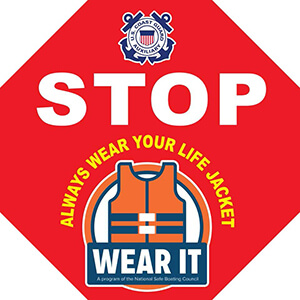 Canoeists and kayakers may soon see a red safety sign posted at launch ramps and other water access areas across Lake Lanier as well as waterways across the rest of the U.S. The new safety sign is part of an ongoing effort to reduce the number of paddle sport fatalities.
USCG Recreational Boating Statistics show that, between 2015 and 2020, an average of 133 paddlers died each year – nearly a quarter of all boating deaths. Most of these paddlers were not wearing a lifejacket and drowned.
The sign resembles a stop sign and carries a simple message – Stop. Always Wear Your Life Jacket. "The purpose of this program is to remind paddlers that the single most important factor in preventing drowning is to wear an appropriate life jacket," said D. Vaccaro of the Coast Guard Auxiliary.
The auxiliary, the National Safe Boating Council, the Water Sports Foundation, and regional paddling organizations have worked together to promote paddlecraft safety.
The Coast Guard Auxiliary is the uniformed civilian component of the U.S. Coast Guard and supports the Coast Guard in nearly all mission areas. For more information, please visit www.cgaux.org.