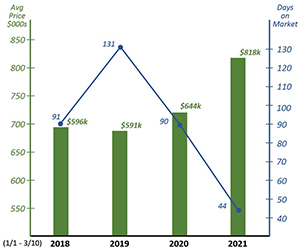 When it comes to residential real estate, 2020 was unlike any other time in history. With the global pandemic, civil unrest, and contentious election, one might expect real estate to suffer as it has in previous hard times. However, it was a banner year and 2021 has also started out with a bang. In year-over-year statistics, residential prices are increasing at almost 15 percent nationally, the highest rate of increase in a generation. For Lake Lanier residents, the news is the same.
There are several indicators that show the health of a real estate market. Those include the trend in average home prices, number of days on the market and the percentage of sales price as compared to the original list price. For Lanier sales, all of those indicators are absolutely golden. In the first few weeks of 2021, The average home price has risen from $644,000 in the same period of 2020 to $818,000. That growth is unprecedented. The number of days on the market dropped from 90 last year to 44. That is an incredible drop, but check out this stat. For homes listed in 2021 (excluding listings held over from 2020), the average days on market is six. SIX! Again, unprecedented. Lastly, the percentage of sales price to list price reflects the incredible competition for correctly-priced properties. In the first months of 2020, it was a healthy 95 percent. This year, it has jumped to 98 percent. This is a result of many homes getting multiple bids and selling above list price. This is a nightmare for appraisers trying to justify sales prices in a rising market, but it's bliss for homeowners. This is especially true for those who have had past obstacles in selling their homes such as shallow water or limited lake view. Once they've lost out on previous bids, buyers are more likely to accept small "issues" with a home.
In a normal economy, this would mean that buyers tend to put on the brakes. However, the historically low interest rates are allowing them to buy more expensive homes with affordable monthly payments. Why are buyers so motivated right now? The pandemic has necessitated a large percentage of the work force to work from home. While some believe that will end when the virus is under control, most experts think that working from home is a trend that will remain. And let's be honest, if you're working from home, would you rather look out the window at I-285 traffic or enjoy the serenity of a blue heron as it lifts off beautiful Lake Lanier? Before the pandemic, the split between vacation homes and residence sales on Lanier was about 50/50. It is much more weighted toward residences now. City dwellers who used to own two houses are selling their other home to buy a more expensive lake home, and that is reflected in the uptick in luxury sales. Million-dollar-plus homes are flying off the shelf. Multi-million dollar homes are getting attention like never before. Who wouldn't want to live on our beautiful lake?
So what can you do with this information?
If you have a hard-to-sell lake home, this might be the best market in your lifetime to sell your property. Issues like shallow water, no view, not updated since the '80s, steep hill to the lake … those issues are being overlooked in this buying frenzy. The low rates that have allowed the seller's market to flourish will not stay this low. For those of us who remember the late '70s, inflation was rampant and interest rates were in the high teens. Real estate came to a screeching halt which affected everything else in that already-ailing economy. History teaches us that as home values rise, it is almost impossible for rates to stay this low. There will likely be a check on the growth implemented through higher interest rates. It's impossible to predict how high, but certainly above the 2 percent range.
Buyers are lined up and motivated to buy on Lanier. If you've been on the fence, this is the best time in your lifetime to sell a lake home. Don't wait.