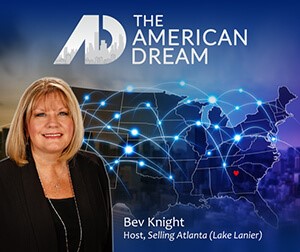 Lake Lanier Realtor Bev Knight has been chosen as one of the hosts for "American Dream TV: Selling Atlanta," a national television program that showcases cities across the nation. She specializes in selling Lake Lanier residential real estate and is one of a few top-producing metro area agents who will be featured regularly.
"The American Dream is all about providing positive media showcasing local lifestyles with uplifting features on real people and real stories," Knight said. "We're bringing light to all that Lake Lanier has to offer, and we're having a great time doing it."
Each show features five segments hosted by different real estate agents in Atlanta. Her bi-monthly episodes will be shown along with segments hosted by four other local agents. Each segment is set in a different part of metro Atlanta where that agent specializes.
Her first 5-minute segment, "Escape to the Lake," premiered on September 17 at 11 a.m. on WUPA television, the CW Network. Set at Pelican Pete's at Port Royale Marina, she interviewed Lake Lanier Recovery Divers owner Richard Pickering, who talked about finding lost wedding rings, watches, keys and wallets from the bottom of the lake for boaters. The program included panoramic scenes of the lake's coves and islands, plus information about the lake.
Once each episode airs, it will be viewable on Apple TV, ROKU and FireTV. Her segments are also available on her team's YouTube channel, www.youtube.com/c/TheGoodLifeGroupLanier.
"For our next show, we're focusing on the rich culture and all there is to do in our area," she said. "So many people think that Lake Lanier and Gainesville are so far away from Atlanta and that there's nothing to do up here, but they are so wrong.
"It's not just the lake that makes this such a great place to live," she said. "Tune in to our next show in November to find out for yourself. You may make some wonderful discoveries. Not only will that segment feature many of the fun events, music and arts around the city, it will also showcase a beautiful luxury home and include an interview with a local celebrity."
Knight has issued a casting call for future shows through her Facebook page (Good Life Group Lanier). Shows will highlight homes, lifestyle and cultural aspects around Lanier.
"We'll be in production in October for our November broadcast, in December for the January broadcast and so forth," she said. "I love this lake so much and I'm having fun telling others about our magical place in the foothills of the Blue Ridge Mountains."
Bev Knight is with Keller Williams Lanier Partners. She owns The Good Life Group, Lake Specialists. Her website is www.housesonlanier.net.