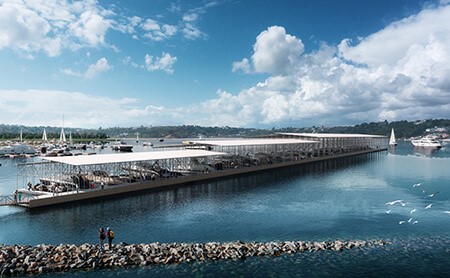 By next spring, Safe Harbor Aqualand located in Flowery Branch will have one of the largest covered inland docks in the Southeast. The 1000-foot-long dock will have 38 slips in varying sizes to accommodate large houseboats and cruisers under cover.
"The new Sunset Dock will replace the existing dock that faces Three Sisters Islands, which is being moved to become new K Dock," said General Manager Jeremy Enck of Safe Harbor Aqualand. "We're providing many amenities, including a robust wave attenuator to reduce waves and in-slip pump out. Plus the view is premium."
The covered slips are available in three sizes: 14×34, 16×60 and 22×100.
"Our current members on the former Sunset Dock have first right of refusal for slips on the new dock," Enck said. "We have begun leasing to those members and have also started a waitlist. By the end of this year, we should be able to accept lease reservations from outside the marina."
For more information, contact the marina's leasing office at 770 967-6811.
Artist's rendering: courtesy of Safe Harbor