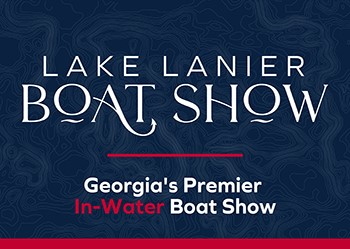 For three days in mid-October, boat dealers and marine vendors will come together for the first-ever Lake Lanier Boat Show. Taking place at Margaritaville at Lanier Islands, the show's dates are October 14-16 and will feature dealers from across North Georgia.
"The response has been overwhelming for this show," said Tabor Reins, president of the Marine Trade Association of Metro Atlanta, organizers and sponsors of the event. "Everyone is very excited to have a fall event right here on Lake Lanier, where the majority of our client base lives and plays."
Area boat dealers will showcase 2022 and 2023 models on land and on the docks at Margaritaville. Landshark Landing restaurant will be open and food trucks all three days to provide food and refreshment for attendees.
"On Saturday and Sunday, we'll have entertainment for guests as well," Reins said. "Dealers will be showing the latest in 2023 models, as well as end-of-season 2022 boats. And many of them will have the ability for on-the-spot financing."
The show is getting good comments from area boat dealers.
"This is a wonderful opportunity for local dealers to have the largest display of boats in the water in a long time," said Philip Burton, managing partner of Gainesville Marina. "It's a great venue for our customers to get a preview of the 2023 models and beat the January price increases. And it supports our idea of buy local, benefitting our dealers and our customers."
Singleton Marine's general manager Casey Smith says the dealership will be bringing 20 boats to show on land and in the water. "It's good to have a boat show again," he said. "We'll be showing our new models and offering manufacturers' incentives and can also offer demos by appointment on certain models during the weekend."
Boating Atlanta is bringing 10 boats to show in-water and on land. "We've got new boats from 2022 and 2023, plus we can take orders for spring delivery of 2023 models," says Jeff Bridwell with sales at Boating Atlanta. "The show is a great opportunity for this area, both for us and area boaters. It really makes sense to have a show on one of the largest lakes in the Southeast."
Atlanta Marine is bringing around 30 new boats to showcase its seven brands both in the water and on land. "We're also bringing pre-owned boats and we will be able to offer financing on-site," said Kelly Seagroves, marketing manager for Atlanta Marine's six locations. "We are very excited about being to reach our wide base of clients."
Here's a sampling of the dealers who will be attending: Advantage Boat Center, Atlanta Marine, Boating Atlanta, Gainesville Marina, Marine Max, Park Marine, Singleton Marine and Skiers Marine. Others, as well as dock builders, marine suppliers and community groups associated with boating and Lake Lanier, will attend as well. Lake Lanier Fishing Guide Ken Sturdivant will offer demonstrations at his booth.
"The Lake Lanier Boat Show promises to provide an effortless boat buying experience, promote a love of water, and help you chart your course for unforgettable days on the lake," Reins said. "It's Georgia's premier in-water opportunity for boaters of all kinds to explore and experience a wide variety of boat brands from trusted, local dealers."
Admission to the show is $12 per person per day; admission includes the gate fee to Lanier Islands. For more info or to purchase advanced tickets, visit www.lakelanierboatshow.com.