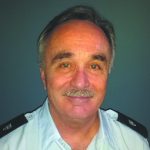 Steve Johnson, Lakeside's columnist who for years provided countless boating safety tips and advice to readers, passed away on August 31 from complications due to COVID-19.
"Steve was as dedicated to helping people be safe on the water as anyone I have ever met," said publisher Alan Hope. "Those who attended his safety seminars would always comment on his passion for safe boating. It really stood out during his presentations."
He was a retired Chief Petty Officer with the U.S. Coast Guard. Johnson was a licensed instructor, examiner, and course developer in the maritime field and owner of CPO Johnson, Inc.
Johnson was born in Washington Court House, Ohio.
He is survived by his wife, Nancy Johnson; son, Matthew Johnson of Fla.; daughter, Margot Johnson of Ruskin, Fla.; grandchildren, Ashton and Shayla; mother, Pauline Johnson of Crestview, Fla. and brother, Rick Johnson of Fort Walton Beach, Fla.
In lieu of flowers, donations may be made to the Salvation Army or Duluth First Baptist Church.