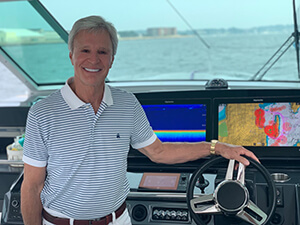 Doug Traina remembers his early days of boating around age 10, when his family had a Hobie Cat sailboat in their backyard on the Gulf. Four years later his father bought him a Sunfish sailboat and from that time, Traina knew water would be the center of his life. As Traina began his career he was never far from boating. College at Georgia Tech brought him from his family home on Long Island to Atlanta where he began building his marine business 40 years ago.
Today, as CEO of Best in Boating, with marinas, boat dealerships and resorts in Georgia, Florida and Indiana, he's in the enviable position of being able to share his passion for boating with folks who otherwise may not have a chance to step foot on a boat.
"Through Freedom Waters Foundation we've been able to create on-the-water events that give veterans, people with disabilities and youngsters with life-threatening diseases the opportunity to feel the joy of boating," said Traina, who has served on the board of the organization for the past two years. "When one of my brokers approached me about supporting the group, it was a chance to do something that my heart believes in. I dived right in."
The group was founded in March 2006 by Debra Frenkel, a licensed clinical social worker who now serves as the organization's executive director, and yacht broker John Weller with the goal of serving individuals with special needs and veterans.
"Our goal is to give our Participants the freedom to experience parts of life they might not otherwise be able to participate in," said Frenkel, who volunteered  with a disabled sailing organization for more than a half-dozen years. "Through a generous group of volunteers who gladly captain their boats to take folks on the water, we are able to do so much. And it's supporters like Doug and our other board members who make this happen."
For the past 15 years, Freedom Waters Foundation has provided on-the-water outings for veterans, people with disabilities, plus children and youth with disabilities/life threatening illnesses, youth at risk and their families in south Florida. Headquartered in Naples, the program has expanded to include therapeutic boating, fishing events and adaptive sailing.
This year, the organization turned 15. Part of the celebration is bringing the event to Lake Lanier and Port Royale Marina.
"Life has been so generous to me that sharing my passion for the water with those who probably don't get a chance to go boating is so special," Traina said. "The participants, the veterans, the youngsters and the families are so grateful that someone cares enough to give them this experience. We hope to make this an annual event at Port Royale."
Heartstrings
The Freedom Waters Foundation website is rich with stories of first-time boating experiences. Here are some examples:
Mike Donahue (1962-2019): Mike was a board member and volunteer captain before and after he was diagnosed with ALS. There's a photo of him in his wheelchair with young Addie, a cancer patient, enjoying being free from the hospital and doctors of her cancer treatment on a sunny afternoon.
A mom and her son volunteered for an outing and wrote: There was a reason God placed me there on that Monday to be part of the veterans' day on the water. I was able to connect with a young female veteran who I believe needed someone to listen to her story. In that, I was given the words to encourage her and provide hope to healing and happiness. My son and I were also encouraged by talking with other veterans and hearing their stories.
The family of a cancer survivor shared: Our 18-year-old daughter is a childhood cancer survivor who was treated at the Joe DiMaggio Children's Hospital two years ago. The love and care both she and we get from the Freedom Waters Foundation is heartwarming. Complete strangers caring so much for us. Wow. The difference it has made to all of us is huge. It was an absolutely wonderful, peaceful day that we will always cherish. Thanks for making it possible."
How you can help
On September 24-25, Port Royale Marina will host its first Atlanta Weller Day Boat Outings. With volunteer boats and drivers, the event will bring together families to experience Lake Lanier.
The group is seeking volunteer captains and boats, from pontoons to cruisers, sailboats to run-abouts, to spend one or both days.
"Once you show up, we will take care of the rest," Frenkel said. "Our staff have worked out all the logistics because we've hosted these events before. We want to make this as fun for our volunteers as well as for our participants."
In addition to the boat rides, the event each day includes a barbecue lunch and music at the marina for the participants and the boat captains.
"Once you've experienced a Freedom Waters Foundation event, you'll understand how important it is to give a day or two of your time," Traina said. "If you love the water, how can you not volunteer?"
To volunteer, visit FreedomWatersFoundation.org, email mgavin@freedomwatersfoundation.org or call 239-263-2377.
Freedom Waters Foundation Days
Where: Port Royale Marina
When: Friday, Sept. 24, veterans and their families
Saturday, Sept. 25 – Kids with life-threatening diseases and their families
Time: 10 a.m. to noon – Cruising on Lake Lanier
Noon to 2 p.m. – BBQ with music
Sponsors: Port Royale Marina – Event Sponsor
Yamaha – Lead Sponsor
Barga and Company
Singleton Marine
Info: FreedomWatersFoundation.org, 1-239-263-2377
Photos: courtesy Freedom Waters Foundation