Mark your calendars for the inaugural Lake Lanier Boat Show the weekend of October 14-16. Catering to North Georgia boaters, the show will feature hundreds of boats from local dealerships on display at Lanier Islands and Margaritaville.
"We're producing this show to better showcase our local dealers and their diverse inventory for our boating community close to home," said Tabor Reins, president of the Marine Trade Association of Metro Atlanta. "They'll be bringing both 2022 and 2023 models for this three-day event with both close-out year-end pricing and a chance to purchase and order new 2023 models in time for next year's boating season."
The organization has contracted with Margaritaville and Lanier Islands to stage the show during Margaritaville's off-season to focus on the boating community's plan to have several of Margaritaville's lakeside food outlets open for the weekend.
"The show will be centered around the parking lot at Grand Hall and in the water at Margaritaville's marina and courtesy docks to allow attendees up-close access to boats ranging from bass boats and pontoons to center consoles, wake boats and larger cruisers," Reins said. "Our local dealers will be onsite all three days to help people with everything from how to select the boat that's right for them and their families to financing and associated boating services."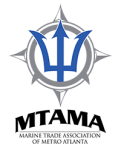 The show has been in the planning stages for more than six months, bringing together members of the Marine Trade Association of Metro Atlanta to create a local show.
"Our concept is to offer two shows each year – one in October and another in March – to help our dealers and their customers have access to the latest models," Reins said. "This fall show will focus on selling existing inventory of 2022 and 2023 models that are in stock, as well as placing orders for spring 2023 deliveries."
MTAMA has hired professional show manager Tim McCart and his company Concept 365 to handle logistics from working with dealers to providing coordination of ancillary marine-associated vendors.
"I grew up on this lake and although I've worked all over the nation to produce shows, leadership conferences and major events, I've always come back to Lake Lanier and Dawsonville," McCart said. "From the time I was young, I've boated on Lanier and to be part of this amazing event and such a dedicated team is like a dream job. Many of the people I'm working with now in the Lanier community have been part of my boating life."
The organization has engaged a Buford firm, The Edge Agency, to handle marketing, web development and social media, along with marketing research.
"We want our dealers to be able to showcase their brands, and people can go ahead and place their orders for spring delivery," Reins said. "And for our customers and prospective customers, it's the best of both worlds. They don't need to drive to Atlanta, they'll be doing business with local dealers and they'll have an opportunity for some good deals."
The Lake Lanier Boat Show takes place at Lanier Islands and Margaritaville the weekend of October 14-16. Admission is $12 per person and includes parking.
For more information, visit LakeLanierBoatshow.com.