My three favorite sports are sailing, skiing, and riding motorcycles.
When I was transferred down here to Georgia and wound up on Lake Lanier, I thought I had died and gone to heaven! We have year-round sailing and sailboat racing and there are several ski areas within a few hours (most of them offer free skiing to seniors!) We also have some amazing terrain for motorcycle touring. I have ridden all over the country and few places can compare with what we have here in North Georgia. There are hundreds of miles of winding roads to go exploring and the Blue Ridge Mountains are right in our back yard. As far as interesting destinations go, you cannot beat Blue Ridge, Helen or Brasstown Bald, the highest point in Georgia. Robbinsville and Maggie Valley in North Carolina and many others are within a few hours ride. For the joy of just riding there is GA Route 60 or the Blue Ridge Parkway and all the different roads you can ride getting there. More adventurous riders challenge the "Dragon" at Deal's Gap. It boasts 318 curves in 11 miles.
The series of guidebooks "Motor Cycle Adventures" by Hawk Hagebak thoroughly covers most of the good rides in north Georgia, southern Tennessee, and North Carolina, giving routes, trip times, things to look for and helpful info like "Last gas for 40 miles." Hagebak is a former US Coast Guard navigator and Atlanta motorcycle police officer.
Personally, a ride up to Maggie Valley's motorcycle museum, "Wheels Through Time" is a must. It has over 300 rare and vintage motorcycles and automobiles dating back to the turn of the last century, and 99 percent of them are in running condition! That's why they call it "The Museum That Runs." It took me a full day to explore and I'm sure I missed a lot.
When I was a kid, I was "absolutely forbidden" to own a motorcycle and my parents warned me ad nauseum about the dangers involved. I came to find out that the reason I was forbidden in such strong terms was that my father had been such a wild man on a bike in his youth.
His old clam digger buddies downtown filled me in on some of his antics. For instance, he had a Harley with a side car. He would ride down the main street of town with the motorcycle in the street and the sidecar on the sidewalk, (and a girl in the sidecar screaming her head off!) When he came to a telephone pole or fire hydrant, he would simply lift the side car up in the air until he got around it and put it back down on the sidewalk. (He never tried this trick with my mother).
At our next family reunion my father and uncles, all of whom rode motorcycles in their youth, were warning me of all the dangers and how things were "different back then." When one of my uncles stated "Why back then when I was riding you could go all the way from Highlands to Red Bank and not meet a car the entire way." I replied, "Gee that's a long way to go with the motorcycle in the street and the sidecar on the sidewalk!" That was the end of that discussion!
My first bike was a 1941 Indian "Seventy-four," which I bought in a basket in the mid 1950s. It cost me $35 and took me about three months to get together and running. I remember that I had to work on it for two weekends in order to ride it for one! I finally sold it for $100 and bought a 1941 Harley Davidson "Knucklehead" for $40. Yup, also in a basket. This one I got running a lot faster because the former owner had just disassembled it to have it chromed and all the parts were there and in good working order. The only reason he sold it was a financial set back and need for ready cash.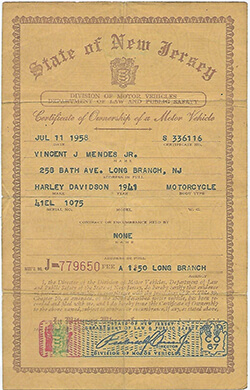 I recently came across the bill of sale for it which sparked this reminiscence. I have a lot of happy memories attached to that bike. I think the funniest one was when a bunch of us were riding down the road doing stupid things like kicking beer cans back and forth, etc. When we came upon a cardboard carton sitting in the middle of the road, someone yelled "Let's get it!" Our friend "Zero" (so called because of his I.Q.) was in the lead and he hit it dead on at about 25 MPH. It turned out to be a full case of Carnation Sweetened Condensed Milk! It would have really been funny except that I was right behind him! Can you imagine what a bunch of sweetened condensed milk smells like after it hits a hot motorcycle engine? I can, even to this day!
I only rode that bike for about six months. When I joined the Navy I locked it safely away in the barn. When I got back four years later it had mysteriously disappeared! Nobody had any idea what could have happened to it! My mother assured me that none of my three younger brothers could have had anything to do with it because they were all too young to have drivers' licenses (Hah)! My father tried to convince me that I never even owned a motorcycle!
About that time, I started college and had a whole lot of other things to worry about, so the matter just faded away. From time to time, I miss it. But I still have the original bill of sale and a good story to tell.