No words can accurately describe that feeling when all of your senses are heightened beyond your imagination in one place at the same time! Watching the magnificent colors of a north Alabama sunset from more than 100 feet above the terrain in a rotating restaurant while soft music plays and your taste buds are exploding from a myriad of diverse gustatory sensations is unreal. That's what it's like to enjoy fine dining at the 360 Grille atop the Renaissance Tower in Florence, Ala. The delicious food is prepared by an Angel …. actually a beautiful young, talented lady known as Chef Angel and served by an amazing and bubbly young man named Brian.
This and many experiences are possible because of the Marriott Shoals Hotel and Spa (www.marriott.com), which is an oasis from the hustle and bustle of the everyday work world. Amenities are perfect for the business traveler, but the setting, overlooking the beautiful Tennessee River Valley, is quiet and peaceful and an ideal place for families, romantic couples and especially golfers.
The Robert Trent Jones Golf Trail at The Shoals is home to two picturesque and challenging 18-hole championship courses that are located between the Wheeler and Wilson dams on the Tennessee River. Wheeler Dam is named in honor of General Joseph "Fighting Joe" Wheeler, who was the only Confederate General to attain the same rank after the Civil War in the United States Army.
The Fighting Joe course is long and fairly flat with some rolling hills and lots of water hazards. It is actually the first RTJ Trail course to break 8,000 yards. The second course is the Schoolmaster which was named for President Woodrow Wilson who was responsible for getting Wilson Dam built in 1924 and was also known as "The Schoolmaster" of politics. This hilly course first opened in the Summer of 2005, and though it is shorter than Fighting Joe, it is extremely difficult for those who don't make straight, accurate shots.
After a thrilling day of great golf at the RTJ at The Shoals, nothing could be better than returning to the Marriott Shoals Hotel and Spa to enjoy a rejuvenating massage. The laid-back atmosphere at the spa is very relaxing and the professionally trained staff will make you forget any discomfort from a hectic day of intense concentration on the golf course. Also, the relaxation area is such a great add-on to the overall experience. Everyone is definitely there to make sure you enjoy every aspect of your visit, and they offer numerous spa experiences … including romantic couples massages!
If you want to have a casual evening and never leave the main hotel area, nothing could be better than a good meal with great local music at Swampers Bar and Grille. There is so much musical history here with photos and signed guitars adorning the walls. They have live music every night by talented local performers and the food and atmosphere are very good.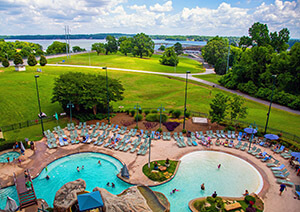 With a full service spa, two great restaurants, a convention center, a great pool, gym, two championship golf courses, the river and lakes for boating fun or fishing, the Marriott Shoals Hotel and Spa truly offers something for everyone! It is a great place for a small convention, wedding, couples getaway, family vacation and is home to many historic sites … including unique American music. The Shoals is always a fascinating place to visit!
Photos: by Bill Vanderford