Three colorful avian guests will tower over the Gainesville Garden of the Atlanta Botanical Garden through October. A giant woven peacock and two cardinals "flew" down from Massachusetts late last month to roost in the woodland garden near Lake Lanier.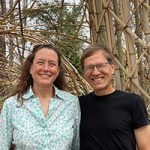 Boston-area artists Donna Dodson and Andy Moerlein, known as "the Myth Makers," sculpted the 20-feet-tall peacock and pair of 15-feet-tall cardinals from natural materials such as bamboo and tree saplings. They wove in recyclable objects, tiles and zip ties to color their feathers. Volunteers from Brenau University helped assemble the brilliant tail of the peacock over two days last month.
Reached by phone before migrating to Gainesville, "Mr. and Mrs. Myth Maker" spoke excitedly about bringing their creations to Georgia. They named the larger sculpture "Flannery's Peacock," in tribute to Georgia author Flannery O'Conner whose estate, Andalusia, was roamed by peacocks. They expected to haul most of the completed bird in a light-weight trailer and engage Brenau students for a hands-on lesson in natural fabrication methods while they assemble the long flowing tail.
"It will take more than two people to build," Moerlein said. Photos from a recycling warehouse where they weave their myths show him atop a high ladder attaching a blue and green fringe "necklace" to the peacock's intricate split bamboo frame. Dodson is shown affixing multicolor zip ties to a grid loom and fashioning pinwheels that will crown the peacock's head. Peacock admirers can view the finished product inside and out. "They will be able to walk through," Dodson said.
The cardinal sculptures, "Love Long Last," are on loan from a New Jersey exhibit. "Cardinals are a common American bird that mates for life. They are familial in a local sense," Moerlein said.
The artists have presented more than 30 public works throughout the world at art museums, sculpture parks, botanical gardens and urban centers from Taiwan to New York. Their collaboration began over a decade ago with a shared interest in sculpting with natural materials and recyclables. Dodson nodded to the current boom in public art for an increased demand for their work. "More communities are realizing the value of temporary public art," she said. "We found a niche in botanical gardens."
Their work carries a message, not only about using materials that are biodegradable or renewable, but also in story. Dodson described their mythical creations as "storytelling in sculpture" that often depicts the mysterious nature of animals, birds, and unsung heroes.
Photos/Video: Alan, Vicki Hope
Garden update for 2021
The Myth Makers: 15-20-feet-tall peacock and cardinal sculptures on display through Oct. 31.
Tulips in Bloom: Thousands of tulips bloom through mid-to-late April, depending on the weather.
Cocktails in the Garden: Formerly Wine in the Woodlands, the popular relaxing evening expands to a weekly Saturday cocktail sip, stroll, and dine event with cash bar and pre-ordered food options from Harvest Kitchen. 3-7 p.m. May-Oct.
Children's Garden: Kids are not the only ones to enjoy the whimsical garden, perched on the highest point and sprinkled with free play elements that highlight earth, wind, water and fire. Fairies, dragons, and a miniature trolly add to the fun. Story times for children ages 1-4 are scheduled at 10 a.m. & 10:45 a.m. Wednesdays May-Oct.
No concerts this year: The Gainesville Garden has again canceled its popular Concerts in the Garden, held traditionally at the Ivester Amphitheater.
Info: The garden is located at 1911 Sweet Bay Dr., Gainesville. Hours: 9 a.m.-6 p.m. Tuesday-Sunday. (Last entry at 5 p.m.) Timed tickets are required for non-members. Admission: $10 adults, $8 children ages 3-12, free to garden members and children younger than 3. www.atlantabg.org, 404-888-4760.
– compiled by Jane Harrison