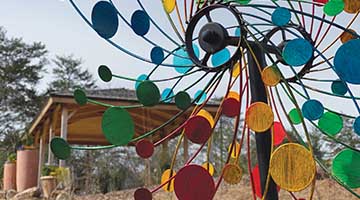 Those who have already sneaked a peek at the whimsical fairy houses, castle, and tooting miniature trains at the new Ada Mae Pass Ivester's Children's Garden found a bright spot during the dreary winter. The 2½ acre addition to the Gainesville Garden of the Atlanta Botanical Garden has been open since fall but will burst into bloom this month with a grand opening.
The enchanting garden was complete last October, but rather than host a celebration just before winter's quiet months, garden officials decided to postpone the opening ceremony. Set for March 20-21, the first weekend of spring, festivities include a preview for garden members and fun for all.
Expect colorful greetings from viburnums, native azaleas, magnolias, and perhaps a thousand daffodils plus a few surprises in a special space where children can build forts, hideout in shrub tunnels, and explore carnivorous plants. "I look forward to the new dynamic of kids engaged in new garden space – playing, laughing, and learning in a beautiful setting with friends, parents, and grandparents, said Mildred Fockele, director of the Gainesville Garden since its 2015 opening.
"The sounds of laughter and squeals of delight will waft over the entire garden as children check out this wonderful new setting," said Mary Pat Matheson, the Garden's President/CEO. "Families are just going to love this new addition."
Fockele and garden staff have been nurturing some of the garden newcomers for five to seven years, growing them from seed or cuttings. The winding walkway to the right of the garden's signature pond will "pop with colors," she said, "really bright yellow, pink, orange blooms with large flower heads."
Dwarf plants around the miniature train tracks bear fun names that children will love: Mini Mouse magnolias, North Pole arborvitae, and Munchkin varieties. Intricate weeping plants drape tendrils into a chase maze. A switchback of shrubs, eventually topping 3½ feet, form a tunnel.
Both children and adults may marvel at unusual sprouts like Beaked Hazelnuts that the garden's Asian plant expert grew from seed from a Japanese garden. Fockele expects "kids will stop and take a look at it and say, 'that doesn't look like a normal plant.' " Indeed, the immature fruit seems to sport a green beak that spurs the question: plant or animal? "It will be interesting for kids to see" when it emerges next fall, Fockele said. Carnivorous plants in bog bowls might stir up some curiosity into a sphere that seems to straddle plant and animal kingdoms.
The new space is not just about plants. Children may listen to a story by the pond, learn fun facts about nature at a discovery station, or make a craft to take home. Budding architects and engineers can create fortresses in Build-a-Fort. They can romp and ramble in The Lawn Labyrinth and reach new heights in the Treehouse and Rock Climb.
What's a children's garden without fairies? A boardwalk winds through tall grasses to the Fairy Forest, home to fairy villages, enchanted tree stumps, and castle and fairy rings connected by the Train Garden. Desmond the Dragon, a friendly creature, hides behind the pond where giant frog plant sculptures stand sentry.
The children's garden is named in honor of Ada Mae Pass Ivester, avid gardener, community supporter, and mother of Doug Ivester, a former Coca-Cola executive who grew up in Gainesville's New Holland community. The garden's amphitheater is named for Ivester and his wife, Kay.
The family matriarch still lives in Gainesville, where she continues to dig in the dirt. "She's a real dynamo," Fockele said. She recalled the children's garden namesake flipping through cell phone photos of her plants during a recent visit and later dropping off hibiscus seeds and succulent off-sets. The children's garden is "a great way to recognize her," Fockele said.
The Gainesville garden director's personal history is also deep-rooted in childhood. "I used to garden with my grandmother. There is a picture of me watering pansies when I was four years old. Luckily, I have been able to pursue it as a career," she said.
That career started at Agnes Scott College in Atlanta where she worked in the greenhouse. A mentor suggested she seek an internship at the nascent Atlanta Botanical Garden when there was little there besides a double-wide trailer and a few sprouts.
She became the garden's first intern, literally growing up with the botanical garden and accompanying its extension into Gainesville, where she lives. None of her three children picked up a hand spade and seed pack, but Fockele said they all enjoy the outdoors, especially hiking trails.
The nearly 1½ miles of forest trails that spur from the garden's periphery may be too much for tiny tykes, but little ones might begin a journey of wonderment about the natural world at the fanciful garden created just for them.
Ida Mae Pass Ivester Children's Garden Grand Opening Celebration
When: Member preview 3-6 p.m. March 20. Activities for members and non-members 9 a.m.-3 p.m. March 21. Open until 6 p.m.
Activities: Special programming, face painting, music, photos with Tree Man and more
Where: Gainesville Garden of the Atlanta Botanical Garden, 1911 Sweet Bay Dr.
Information: www.atlantagb.org, 404-888-4760.