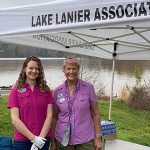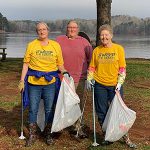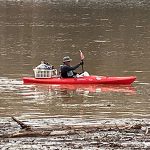 (L) Lake Lanier Association Executive Director, Jennifer Flowers (left) with board member, Bonny Putney (right)
(C & R) Volunteers on land and on lake collect trash at Lake Lanier Olympic Park supporting Sweep the Hooch 2021.
More than 1,200 volunteers came together on the last Saturday in March along the Chattahoochee River from the headwaters to LaGrange and collected more than 35 tons of trash, debris and garbage.
"We weren't sure what this year's Sweep the Hooch would look like, or even if people would come out," said Tammy Bates, outings manager with Chattahoochee Riverkeeper, who coordinates the cleanup, "but the success of this movement for a trash-free river shows just how much people care about our environment, our planet, our water."
The event covered more than 54 creeks, parks and greenspaces. This year's number of volunteers exceeded last year's by 200 people.
For more information on how to register for upcoming cleanups or how to support CRK's mission, visit chattahoochee.org/cleanups.