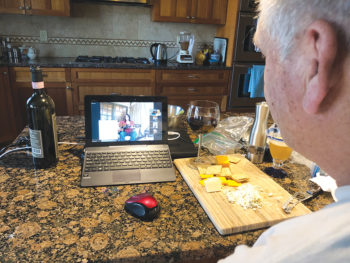 Even with the restrictions of COVID-19, Lake Lanier's restaurants, social organizations, and communities are making it a bit easier and safer for people to stay connected and make the most of the lake and warm spring weather. Many restaurants offer take out, the golf course at Lanier Islands is open for play, and membership groups are thinking of new ways to stay in touch.
Almost as soon as social distancing was announced, University Yacht Club's board of directors put technology to work. From upping its emails and texts to members to creating an online happy hour with music on Friday nights, the club has set a high bar that's gotten very positive feedback from members.
"In these challenging times, our members need their UYC family more than ever," said UYC Commodore Lisa Wilson. "Although we are missing many of our traditional spring events, such as opening day and Easter egg hunts, we've found ways to bring everyone together to continue to feel connected."
The club's Chef Rudy Kremer and his dining room staff are continuing regular meal service from the club's full menus, all shifted to call ahead and take out. Orders are prepared and packaged, left in an outside area so that there is no human-to-human contact. The club is also selling unprepared cuts of meat for members to cook at home.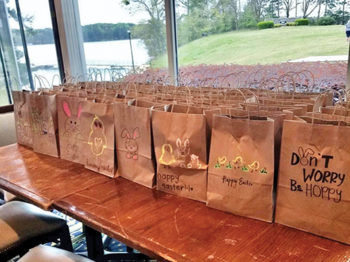 In late March, club volunteers taped the annual Easter Sunrise service for broadcast on Easter morning, complete with music, readings, and an Easter message. The club's staff made dozens of colorful Easter bags for members to use at home with their families. They included candy-filled eggs and other goodies.
Using Constant Contact and email, the club sends regular messages and updates. Devotionals throughout the week bring inspirational messages. Friday evening happy hours on Zoom have brought in as many as 60 members to chat, enjoy a cocktail together, and enjoy the musical talents of members. "UYC members have been physically distanced, but in no way are we socially apart," Wilson said. "We've had to experiment and adapted to many different technology platforms; some have worked, others have not. We're getting through the trial-and-error and our members certainly have expressed their appreciation in many ways. We all hope for a resolution to these times soon, as everyone is, but in the meantime, we're doing everything we can to stay safely connected."
Support lake restaurants
A number of lake restaurants are doing take out, either with call-ahead or curbside ordering. Many are offering streamlined menus or daily specials.
Skogie's at Gainesville Marina, 678 450-1310, is doing take-out and dockside ordering on Fridays from 5 to 8 p.m., Saturdays and Sundays from 10 a.m. to 8 p.m. "We're doing our brunch items from 10 to noon on Saturdays and Sundays, too," said Tony Jonovitch, owner of Skogie's. "People can come to our courtesy docks in the marina; we're calling it dock-and-dine and it's been very popular."
Smokey Q at Bald Ridge Marina, 770 910-4961, is doing take-out. Known for its pulled pork and chicken sandwiches, it also serves Philly cheesesteaks and pork and chicken tacos. Serving from its full menu, owners Rudy Connor and Judson Holder are open Tuesdays through Fridays from 11 a.m. to 5 p.m., Saturdays from 11 a.m. to 6:30 p.m. and Sundays from 11 a.m. to 5 p.m. "Our menu board is out front and people can call ahead or drop by. Just knock on the back door and we'll take care of you."
Twisted Oar at Holiday Marina, 770 715-9818, has been doing take-out seven days a week from 11:30 a.m. to 8:30 p.m. It's offering its full menu plus daily specials. "Our goal is to help keep our employees as best we can," said Cary Eubank, owner of Twisted Oar.
Port Royale's Pelican Pete's plans to be open by late April for dockside take-out, Fridays through Sundays from noon to 8 p.m. "We have the largest number of courtesy docks, on the lake, so we'll be providing take-out," said Brian, Grill manager of Pelican Pete's. "We'll be using a limited menu to be super-fast, but we've also got some new menu items."
Fish Tales at Hideaway Bay, 770 967-3375, and Pig Tales at Aqualand, 678 828-7676, have been doing take-out and dock delivery during April on weekends. As of press time, owner Dale Ozaki had not set specific hours for May. "We hope to be open and operational in our dining room with regular hours in May, but we don't feel confident at this point to publish anything right now about May."
Lake recreation
Lanier Islands has kept Legacy Golf Club open for golf. "Golf is a good sport for social distancing," said Missy Burgess, director of public relations and marketing. "We know that people are trying to have some sense of normalcy so we're also open for people to come out here and bike, hike, and walk. Think of coming out to the islands as social distancing with a view."
Lanier Islands is not booking hotel rooms but is offering villas and lake-house stays. The RV Park at Margaritaville is open as well. For more information about Lanier Islands, visit LanierIslands.com.
Lakeside News will update its website as information changes concerning COVID-19.