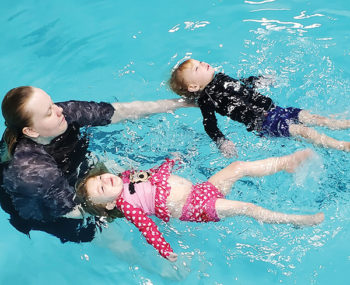 May is Water Safety Month to raise awareness about safe practices around the water. In 2019, drowning was the leading cause of death in children ages infant to 4 years old, other than birth defects, according to the website StopDrowningNow.org. The American Red Cross reports that children younger than age 5 have the highest rates of drowning; many of these deaths occur in home pools or hot tubs.
Two moms from Gwinnett have taken these statistics seriously. In 2007 Cindy Sachse and Christy Williams began teaching infants and toddlers how to swim in a backyard pool.
"Most people don't know that babies will naturally float on their own and that introducing them to water at an early age will help them develop the skills to survive in a pool or other body of water," said Sachse, who with Williams recently opened Gwinnett Swim on Lanier Islands Parkway. "It is really making a difference for families."
Gwinnett Swim's main mission is working with infants and toddlers, but they work with all ages. Their new 8,000-square-foot facility, which opened a year ago, has a junior Olympic-sized pool that ranges from 3 to 6 feet deep. It also has changing rooms and bathrooms, including a family changing room.
"All Aquatic Survival Instruction (ASI) is one-on-one, and our upper-level classes are semi-private and small groups," Williams said. "We've developed our program through our own experiences and all of our instructors are CPR- and AED-certified."
Williams has a Bachelor of Science degree in education and a background working with children, which helped the women develop their curriculum.
The pair met in the mid-2000s, when Williams searched out a private instructor for her 6-month-old son. She connected with Sachse. "We just started talking about how important it is to teach infants and toddlers about water safety," Sachse said. "Drowning can be prevented, and we're all about giving children the tools to get out of a difficult situation in the water and how to problem-solve. It's not just a 'summer activity,' it's a life skill," Williams said.
In addition to infant and toddler private lessons, Gwinnett Swim teaches adult swim lessons for all ages, water aerobics, and has a swim team with more than 70 participants, ranging in age from 4 to 18. The team is part of the North Georgia Swim League. The facility also offers FloatFit classes and is a Silver Sneakers partner.
They are actively preparing for a busy summer schedule.
"We are currently closed and we hope to reopen in May under guidance from the city of Buford and Hall County," Sachse said. "We have every intention of coming back stronger than ever. Our customers are staying engaged with us on Facebook and Instagram and are very excited for our return. They can't wait to get back in the water."
Gwinnett Swim offers monthly classes as well as membership plans. For more information, visit GwinnettSwim.com or call 404 590-7946.