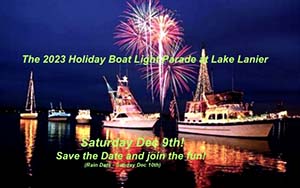 It wouldn't be the holidays without the Holiday Boat Light Parade on Lake Lanier. Once again, this festive event will benefit The Georgia Sheriff's Youth Homes.
"During the holidays, what better way to celebrate the real meaning of the holidays than giving back?" said Richard Pickering, event coordinator for the non-profit organization. "With five campuses across Georgia, the Georgia Sheriff's Youth Home serves many children all year long. This is just one way that we as a community can share our resources with others, especially during the holiday  season."
Pickering said that he's hoping for an even stronger turnout than in 2022, when 52 boats participated. The group donated about $8,000 to the youth homes and hope to do more this year.
"Even if you can't bring a boat, we urge you to make a donation through the website," Pickering says. The event is open to houseboats, cruisers, runabouts, pontoon boats and sail boats.
Parade marshaling begins at 5:30 p.m. north of Port Royale, then travels past Aqualand, down Big Creek to University Yacht Club, past Holiday Lazy Days and Holiday Marina before heading back to Port Royale where decorated boats can dock nearby.
"Anyone with a boat can participate and we encourage people to come with their families," he said. "We will be giving out trophies at the after-party, taking place at Pelican Pete's."
The Facebook page – Holiday Boat Light Parade at Lake Lanier – will include the most up-to-date marshaling and parade route, as well as links to registration, the safety video and images from previous years' parades.
"Over the years, the parade has been building its participation and we hope for a good turnout this year," Pickering said. "Let us know you're coming to support this incredible children's charity."
Entry fees are based on the length of the boat registered. The event's rain date is Sunday, December 10.
For more info, visit www.georgiasheriffsyouthhomes.org.