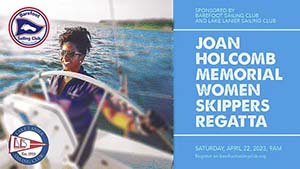 For the 13th year, Barefoot Sailing Club's Women Skippers Regatta will honor long-time Lanier sailor Joan Holcomb. The former commodore of both Barefoot sailing Club and Lake Lanier Sailing Club died in 2010, and at that time Barefoot Sailing Club named its women's race to commemorate her contributions to female sailors on the lake.
This year's event takes place on Saturday, April 22, and will be co-hosted by Lake Lanier Sailing Club.
"Joan continues to be an inspiration to many of the women sailors on the lake, whether they own their own boats or serve as crew," said Kerry McGrath, commodore of Barefoot. "This event is a great opportunity for women skippers to show off their skills and have a fun day on the lake.
"It is also an excuse to load up the sailboats with women crew," she said. "Finally, it allows less-experienced women racers to gain experience in a competition."
To participate, a woman must helm the boat and a woman must also make the strategic and tactical decisions. The remainder of the crew can be either female or male.
Events will take place at Lake Lanier Sailing Club, including the after-race awards presentation and social event.
Nineteen boats, all helmed by women, participated in last year's event.
"We are pleased to be able to continue to honor Joan for her sportsmanship, leadership and sailing skills year after year," McGrath said. "It is important that we encourage more women to take the helm and to get involved in the sport of sailing."
For information, registration or how to volunteer for crew for the Joan Holcomb Memorial Women Skippers Regatta, visit www.barefootsailingclub.org.
Image: courtesy Barefoot Sailing Club at Lake Lanier