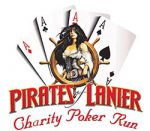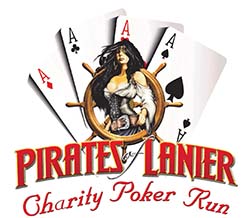 Pirates of Lanier Poker Run
Dates: Friday and Saturday, September 15-16
Headquarters: Margaritaville at Lanier Islands
Beneficiaries: See article below
More information: LanierPirates.com
This year's Pirates of Lanier Poker Run, the weekend of September 15-16, benefits three children's charities – Camp Twin Lakes, Camp Sunshine and Boys & Girls Clubs of Lanier. Since its inception 15 years ago, the Pirates of Lanier has provided donations from the annual event to various charities, including Camp Twin Lakes and Camp Sunshine. About 10 years ago, the board added Boys & Girls Clubs of Lanier.
"From the very beginning, we've always been about the kids, first and foremost," said Derek Dugan, one of the original board members of Silent Partners for Kids. "I give a great deal of credit to the original founder Steve Damus for pushing us to focus on children's charities all those years ago and for helping create the event that continues to support children's charities.
In its inaugural year of 2009, the event raised $5,000, all donated to charity through Silent Partners for Kids. The following year, Damus, Dugan, Phil Powell, Robert Campbell and the late Rae Williams created Georgia non-profit Lanier Partners of North Georgia Inc., the Georgia non-profit that still produces the Pirates of Lanier Poker Run.
The event has grown to donate as much as $350,000 annually.
The current board of Lanier Partners of North Georgia is Sheridan Renfroe Bazemore, president; Dan Jape, vice president; Brenda Musone, secretary; Dan Gordon, treasurer; plus board members "Bucky" Perry, Bruce Longmore, Ronnie Gordon, Freddy Fonzo and Rob Davidson.
All about the kids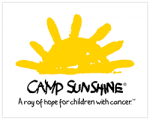 Camp Sunshine was created in the early 1980s to provide a summer camp experience for youngsters with cancer. Over the years, it has expanded to include family camp weekends and other activities such as pre-school programs, sibling camps and teen retreats. The camps are held at Camp Twin Lakes, a non-profit camp facility located within Fort Yargo State Park in Barrow County. Camp Sunshine House non-residential facility in Decatur provides educational and support programming for children and their families. It opened in 2003. Camp Sunshine's two one-week summer camp programs serve more than 400 campers with the help of more than 225 volunteers. It also offers year-'round programming that includes trips, outings, recreational programs, as well as education and support for families. For more info, visit www.mycampsunshine.com.

Camp Sunshine is just one of the many non-profit partners who present camps at Camp Twin Lakes. Founded 30 years ago, Camp Twin Lake's Camp Will-a-Way occupies 120 acres on two peninsulas in Fort Yargo, a Georgia State Park. Camp Twin Lakes has two other physical locations: its flagship facility in Rutledge and Camp Dream in Warm Springs. Camp Twin Lakes works with children and adults with special needs, providing camp facilities, meals and activities overseen by a Certified Therapeutic Recreation Specialist. Camp Twin Lakes has become a national model serving special populations and since its inception has worked with more than 100,000 children and volunteers. It works with more than 60 partner organizations. For more info, visit www.camptwinlakes.org.

Since 2013, the Boys & Girls Club of Lanier benefited from Poker Run donations. Currently, the club has several projects and capital campaigns in process, including rebuilding Positive Place Club, a new gymnasium at the Joseph F. Walters Club, and a new facility in Forsyth County. There are 25 club locations in Hall, Habersham and Buford/Gwinnett. In 2022, the Boys & Girls Clubs of Lanier served 7,500 youths aged 6-18.  Positive Place Club, founded in 1972, offers a gym, game and art rooms, tech center  and fields. The adjacent Positive Place Teen Center emphasizes academics with tech facilities, study labs and an AV studio. For more info, visit www.boysgirlsclubs.com.
All of these organizations are supported by community volunteers and donations.