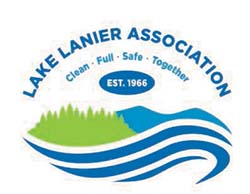 Mark your calendars for Saturday, September 23. That's when the Lake Lanier Association celebrates 35 years of lake-wide cleanups.
"Over the years, we've involved thousands of volunteers, from neighborhood groups to churches, scout groups to marina members, to help keep Lake Lanier clean," said Bonny Putney, chair of Shore Sweep and LLA board member. "We count on the community each year to help with this important event and they continue to step forward."
In 2022, the association set a record for trash collection: 90 tons of trash, garbage and debris. More than 1,400 volunteers took part.
"The work for Shore Sweep goes on all year," Putney said. "We're lining up sponsors to help with trash removal, equipment and dumpster donations to make the event a success. Fortunately, our drop-off points for advanced collection and our on-site locations have become consistent over the years, so it makes it easier to coordinate and communicate with volunteers."
This year's advance drop-off sites will open in early September. They include Shady Grove Park-Beach (drop off by boat only), Beaver Ruin, Gwinnett Park, Gaines Ferry Island, Beaver Island, Wahoo Island 2WC and Nix Bridge Island.
"At these locations, people can drop off trash as close to the signs at the sites as possible," she said. "In coordination with our sponsors, pickups will take place immediately after Shore Sweep is over."
Thirteen day-of collection sites include Bald Ridge Marina, Shady Grove-Boat Access Only, Port Royale Marina, War Hill Park, Toto Creek Park, Don Carter State Park, Laurel Park, Holly Park, Gainesville Marina, Balus Creek Boat Ramp, Aqualand Marina, Lanier Islands Boat Ramp and Gwinnett Park.
"Each of these sites will be staffed from 8 a.m. to noon on collection day," she said. "We encourage people to come early to avoid the heat later in the morning."
To register and for more information, including GPS coordinates for the advance sites, visit lakelanier.org.