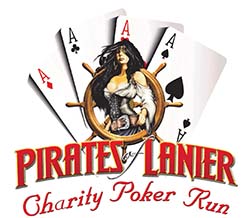 Organizers have reported that registrations have sold out for the 15th Annual Pirates of Lanier Poker Run on Lake Lanier. The event, being held this year September 15-17, will be headquartered at Margaritaville at Lake Lanier. Lead sponsors are Jape Services and Hamilton Marine Finance.
The event raises money for three local charities: Camp Sunshine, Camp Twin Lakes and Lanier Boys & Girls Clubs.
According to the group's Facebook page, many of the big boats from out of state will be returning.
Friday's events include Cheeseburger Paradise with a stereo competition in the afternoon and an evening welcome party and dinner, plus the mandatory captain's safety meeting.
Six card stops – Holiday, Lazy Days, Habersham Pointe, Port Royale, Safe Harbor Aqualand Marina and Gainesville Marina – open at 9 a.m. on Saturday. Boaters turn in their cards at the Casino Night at Landshark Landing, which will be followed by fireworks.
For more information or to donate, visit lanierpirates.com.