Lakeside's Senior Reporter Pamela A. Keene recently returned from an African Safari. Here is her final installment of a two-part series describing the fascinating journey that offered up a surprise or two.
As we left Zimbabwe on two small chartered planes, three more tented safari camps and more morning and evening game drives awaited. Already, we'd seen amazing wildlife, visited a village and a school and our appetites were whetted for even more discoveries.
If our upcoming modes of transportation – small planes and dirt landing strips, flat-bottomed boats, dugout canoes, more safari jeeps, hiking and vans – foretold the diversity of our adventures, we still couldn't have predicted what was to come.
Next stop was for three nights at Kaingu Safari Lodge in Zambia's Kafue National Park, deep in the bush over more bumpy one-lane sandy roads carved out between the tall grasses and occasional stands of trees. After several hours with stops along the way to view impala, elephants and zebra, we learned that the last part of our journey to camp would include two 8-passenger fishing boats.
As the sun went down over the water, we heard the joyous sounds of native music and drums as our hosts waited to greet us at the docks. After dinner, we settled in to prepare for our early-morning game drive.
Rising between 5 and 5:30 a.m. became the norm for the rest of the trip, with a light breakfast in the lodge as the sun rose. Our little boats powered by 40 hp outboards took us back to the jeeps where we drove for several hours spotting zebras and impalas, giraffes, ostriches and glimpses of colorful birds.
Again, each day we'd return to the lodge for a midday brunch by the river, a bit of time to rest then 3 p.m. tea before setting out for our late afternoon game drive. Most days we had two game drives, but we also had a mid-day hike to a large rock outcropping that in many ways reminded me of the monadnock granite formations at Stone Mountain.
Each evening the intense sunsets over the water drew our attention westward where silhouettes of dead trees and low-growing brush provided perfect framing for the deep orange, red and purple skies.
Small planes once again took us back to Livingstone near the Zimbabwe border where we boarded a van to drive to Chobe National Park and our first Botswana 3-night stay at Jackalberry tented camp on the banks of the Chobe River. It was by far the most elegant of our camps; our platform safari tents included air conditioning, electricity for charging our phones and camera batteries, and a large bathroom with a large footed white porcelain soaking tub.
At Jackalberry we took both safari jeep game drives and outings by boat. We skirted the shore of the Chobe River, where we saw water fowl, elephants, hippopotamus of all ages, cape buffalo and giraffe. Another route farther from the shore allowed us to experience large groups of elephants, impala grazing with zebras, and a gathering of lionesses and teen-aged cubs on both sides of the road.
On two separate drives, we ended up at a large acacia tree with a giant inactive termite mound at its base. It had a cinderblock building nearby with men's and women's bathrooms with sit-down flushing toilets, the only one we ever saw in the brush other than in our camps.
The spot was vastly different in the early afternoon than it was mid-morning. Three vehicles were parked there to enjoy the facilities; the wildlife was much more active in the early afternoon as well with a parade of warthogs and an active colony of vervet monkeys.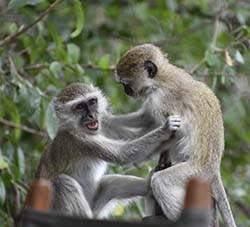 We soon discovered that the monkeys were very interested in the trucks and the people. Several monkeys climbed into the open windows of one camper to appropriate a loaf of bread. As we began to unpack our lunches of sandwiches, fruit and slices of pizza, the vervets gathered around – not to wait for us to toss them snacks. No; they aggressively darted toward us, grabbing a sandwich from one of our fellow travelers and swiping my slice of pizza.
At first it was cute, but when it became impossible to eat, we quickly downed our food and headed back to camp.
Next we flew to Botswana's Okavango Delta, staying at Mogogelo Camp in elevated tents that overlooked a large – and busy – watering hole frequented by elephants, cape buffalo, zebra and all manner of birds from morning until night.
The number of sightings was a sign of things to come, because as one of the largest freshwater wetlands in southern Africa, this area of Botswana also proved to have the broadest selection of wildlife and some of the best viewing.
On our second day, we took a 90-minute ride in our game jeeps for a special treat to explore the flora and fauna of the delta's wetlands from a different perspective. Sitting in the same types of dugouts used by natives for thousands of years to navigate the tributaries, our stickman steered our replica boats through shallow waters filled with water lilies and aquatic grasses. Tiny frogs, insects and colorful flowers showed us how the up-close aspects of safari adventures can be just as stunning as seeing the large mammals that attract most tourists.
As we gathered on our last morning in the bush, the guides were more animated than usual. During the night, they heard sounds of a battle between mammals in the bush. They rushed us into the jeeps and within a 15-minute drive we made one of the best discoveries of the trip.
A female leopard, hiding in the tall grasses between two dead trees lay guarding her overnight kill – an impala that was caught off guard as part of the cycle of life so natural in the wild.
In the early dawn light she quietly lay about four feet from her kill, where she stayed while we made photos for about 45 minutes. She never budged.
We were mesmerized, but as the skies lightened, we were off for the rest of our morning game drive. Back at the lodge, brunch and mid-afternoon tea followed before we began our late-afternoon and final scheduled game drive of our adventure.
Everyone was on high alert. About an hour into the trek, our group came upon several lions gathered in the bush feeding on the carcass of a cape buffalo. One lion – a male teen-aged cub – continued to feed as a female lioness kept watch over two other cubs playing nearby.
Stunned by the scene that continued although we were only 20 feet away, we made photos for nearly an hour, at one point tracking the mother and two of the cubs to a watering hole, then returning to the site of the kill.
Seeing a group of lions or a leopard with a kill is rare, but to see two in the same day was beyond amazing. It was indeed the highlight of the trip.
The next morning we drove back to the dirt airstrip for our final destination, two days in Victoria Falls on the border of Zimbabwe and Zambia. As the world's largest waterfall, based on its width of 5,604 feet and height of 354 feet, Victoria Falls is twice the height and more than twice the width of Niagara Falls.
Created by the Zambezi River, the falls constantly produce a rising mist that can be seen for miles across the horizon. Rainbows provide perfect framing for photos and the spray can completely soak those who walk along the pathways and cliffs opposite the falls.
Helicopter tours are a main attraction and well worth the cost. The views from above, including a couple of swoops into the gorge put the massive wall of water into perspective. The calm-looking back-waters give way to an average flow of nearly 33,000 cubic feet per second.
As our incredible journey drew to a close, it was bittersweet. Our group of 14 travelers from across the US had developed a special bond over the past 16 days. We had shared pre-dawn game drives, evening explorations ending with sundowners in the bush or at our camps, hikes and discoveries that will remain indelibly imprinted in our memories.
Some of us are staying in touch with the possibility of sharing another international adventure through Overseas Adventure Travel and its sister company Grand Circle Travel.
As I spent several days culling through more than 35,000 images made with my Nikon and my iPhone, I relived this extraordinary journey, often pausing at a photograph to flash back to the moment and solidify the memories.
However, all the photos in the world cannot truly recreate the experience of an elephant spreading its ears and trumpeting to protect her baby, the flush of birds rising above the horizon or the glimpse of the elusive painted dogs moving through the undergrowth.
Every safari is different, depending on the time of year you travel, the counties you visit and the people you travel with. It would be difficult to top this trip called "Ultimate Africa," but chances are I will make at least one more journey to Africa to experience all the wonders it holds.
Photos: by Pamela A. Keene