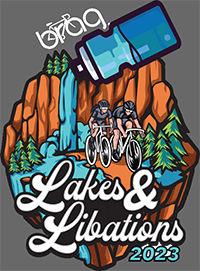 Northeast Georgia's rural roads, scenic by-ways and some city streets will bear the light tread of bicycle wheels early next month when the 43rd Bicycle Ride Across Georgia (BRAG) rolls through. Starting June 3 in Clayton, with overnight stops in Clarkesville (June 4), Gainesville (June 5) and Braselton (June 6&7), the Lakes and Libations tour heads to Madison (June 8) and Thomson (June 9) before landing in Augusta (June 10).
More than 1,000 cyclists are expected to ride the total 325 or so miles, or at least part of it, in a tour that packs its own food, beverages, mechanics and showers, but also syncs cyclists with the beat of host communities.
The parade of cyclists is expected to start wheeling into the Gainesville Civic Center around 11 a.m. and will likely continue until around 2 p.m. They can wind down or shake a leg to the Ivan Duke Band at the civic center from 4-7 p.m. Or take a shuttle to downtown and the Midland Greenway area for specials at restaurants and tap rooms, according to Robyn Lynch, Gainesville tourism director.
Motorists may see some rolling road closures to accommodate the throng, but there will be no complete closures, Lynch said.
Cyclists will enter Gainesville the "back way" from Clarkesville along Old Cornelia Highway. Near the county line, they can take a slight detour to get some fresh bites at Jaemor Farms before wheeling into Lula for a rest stop and tie into Cagle/Cagle Mill roads. Riders will cross State 365 at Kubota Way, travel Gateway Centre Parkway eventually to White Sulfur Road, and pick up Beverly, Lakeview, and Park Hill before turning into the Civic Center.
They'll depart the next morning around 7 and head onto Jesse Jewell Parkway and Old Cornelia Highway for a spin through rural East Hall and Jackson County en route to Braselton. The next day is a near 40-mile country ride that loops into Hoschton, Pendergrass, Talmo and the Belmont community of southeast Hall. After another night in Braselton, they head onto the graceful southern streets of Madison.
BRAG executive director Franklin Johnson seeks input from local cycling groups and city officials to design scenic routes off busy thoroughfares. "We reach out through our own participant database to see what they suggest," he said. He often pre-rides sections himself. Occasionally optional courses, such as the "short" route on Day 1 from Clayton, accommodate riders of different skills and endurance levels. "We wanted to give folks options of going around Lake Burton or not," he said, so if they would rather not take on the hills in the exclusive enclave they don't have to exhaust themselves.
Johnson said he looked at the Highlands to Islands Trail in Gainesville and Hall County as a possibility but ruled it out due to its current incompletion and incompatibility with BRAG's destination. He also noted "there's a lot of traffic" (from pedestrians and other wheels) on the greenway.
Both Lynch and Tim Evans, an economic development official with the Gainesville-Hall Chamber of Commerce, describe BRAG as a valuable tourism event that brings cyclists back to do business or have fun with families. Evans, a regular BRAG participant, described the bike tour as spokes of a network between business people and community leaders who ride together. He said it is also a great way to exercise and see Georgia's "kind people and all that our beautiful state has to offer."
See www.brag.org for more information on the route.
Photo: courtesy BRAG Facebook page