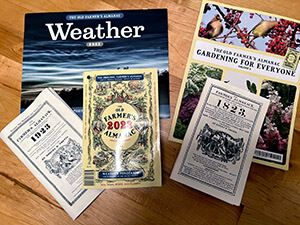 If you grew up in the rural South, you may remember your grandparents' Old Farmer's Almanac calendar hanging on the wall of the farmhouse kitchen or the chicken house. If you're too young to remember, you can still reap the benefits of the sage and time-tested wisdom that this calendar and the little paper book that is still issued every year.
Filled with so much more than gardening wisdom, it can tell you everything from what days of the month to move to a new home, and the phases of the moon and other astronomical events. Stories in the 2023 issue bust myths about spiders, explain why birds feather their nests and give pretty darned accurate weather forecasts across the nation.
Known for its accuracy in forecasting the weather across North America – there's even a page that compares last year's predictions with actual weather conditions – it's not only helpful for planting, but also for planning vacations and trips. The colorful weather maps and the accompanying prose regional seasonal predictions can be pretty specific.
Check out some award-winning recipes, like "Banana-Stuffed Peanut Butter French Toast" and "Spicy Banana Shrimp Stir-Fry" which tied for the first-place prize in the most recent recipe contest featuring bananas. Other winners include "Go Bananas Pops" and "Easy Sticky Banana Squares." Sadly, calorie counts and nutritional values aren't revealed, but when it comes to bananas, does it really matter?
Other info includes the best times to catch (or not catch) fish in your area, which days are best each month for having dental work done, painting or washing windows, beginning a diet to lose weight (or on a separate day to gain weight), or even get married or ask for a loan.
A section that de-mystifies old sayings like "How mad is a wet hen?" "How much is a hill of beans worth?" and "How fast is greased lightning?" can't help but cause at least a chuckle.
Here are some other gems – some applicable, some merely to make you smile – included in this year's edition:
"You must be angry when planting peppers or they won't grow."
"Cucumbers and watermelons planted on May 1 before sunrise yield prolifically. Folklore says that if you wear your nightclothes while sowing, the plants will be insect free."
"When planting peach trees, bury old leather shoes or boots near the roots to give the plant a nutrient boost."
"If there's a storm when eggs are setting, they will not hatch."
Even if you're not a gardener, the 2023 Old Farmer's Almanac has something for just about everyone.
Buy it at local box retailers, like Target and Wal-Mart, or better yet, order it online at www.almanac.com to learn about other goodies, special clubs – gardening, the Almanac Club and the 1792 Society – that include helpful booklets about food and flower gardening, calendars, replicas of 100- and 200-year-old almanacs, and more.
To learn more, visit www.almanac.com. You can spend a couple of hours just browsing the website, or better yet, you can order your own 2023 edition and thumb through it for all kinds of home, health, finance and gardening tidbits.
Photo: by Pamela A. Keene