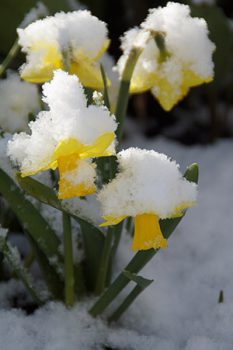 The damage may not be visible yet, but late December's deep freeze wreaked havoc with plants, shrubs and trees across Georgia.
Don't panic yet. Until plants and trees begin to leaf out this spring, you won't know the initial impact of sustained sub-freezing temperatures of this winter's topsy-turvy weather.
Early signs include dry, curled and brown foliage, extreme leaf drop or defoliation, and cracks in stems and branches. But the reality won't be clear for at least several months.
Don't panic.
What you can do now
If you haven't already, apply a thick layer of mulch around plants and shrubs. Wood or cypress chips will be more effective than pine straw, and the layer should be about 3-4 inches deep.
Avoid mulching too close to the trunks and stems of plants like azaleas, camellias, hydrangeas, forsythia and other ornamentals. Give the plants a couple of inches of room to breathe.
Perennials like daisies, rudbeckia, cone flowers, salvias and cardinal flowers, which have died back in the late fall, could stand an application of mulch to protect the roots from further damage. Some are cold hardy, but you'll have to wait until warm weather to determine if they have survived. Better to mulch as insurance. Once the weather has warmed up for spring, gently remove the mulch to allow the new shoots to emerge.
If you grow dahlias and you didn't lift them this fall, you will most likely be disappointed. We applied a four-inch layer of mulch to our dahlia bed, but most likely it will not be enough to save them. Our Zone 7b and 8a hardiness zones are always iffy when it comes to dahlias. It may be best to order some replacements to ensure you'll have new ones to plant.
Patience until warm weather
Most people's inclination is to immediately prune off visible freeze damage as soon as it occurs, but this is a mistake. Until all danger of further severe temperature nose-dives is behind us, almost anything you do, from pruning to frizzling, will make matters worse.
Both pruning and fertilizing encourage new growth. Doing either too early may damage tender growth that's extremely susceptible to frost and freezes.
Once warm weather has arrived – after April 15, our area's average last-frost date – you may need assistance from a professional. Especially if you have tree or shrub damage, find a certified arborist to pay an assessment visit for advice.
The Georgia Arborist Association (www.georgiaarborist.org) is the best place to start. These folks are certified to deal with all kinds of tree and shrub issues, from pruning to disease diagnosis.
There's hope: spring bulbs, daylilies
Daffodils, narcissus and peonies appreciate a bit of cold weather, so even if they are already sprouting they probably will deliver their colorful and cheerful message that "spring has arrived." Grown in the Netherlands – where it is much colder than Northeast Georgia – they are pretty cold tolerant.
Daylilies are another cold-tolerant perennial that will most likely survive, but to be safe, cover them with a 2- to 3-inch layer of mulch for the remainder of the winter. Wait to remove the mulch until all danger of frost is passed.
Fingers crossed that most of your plants, shrubs and trees survived, but it's going to take some months to know the outcome of our roller-coaster winter temperatures.
Photos: by Pamela A. Keene