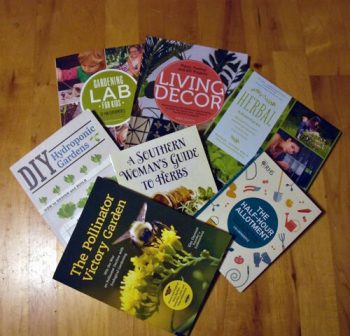 For gardeners, there's almost nothing better than having a couple of gardening books under the tree. During the winter, it's fun to read, dream and plan about the coming year's growing season. They provide an unlimited source for new ideas, plants to try, and ways to make gardening more fun for the whole family.
One of my favorites, "A Southern Woman's Guide to Herbs," written by my dear friend and author Jaclyn Weldon White, is a must-have. Jackie, who lives in Braselton, is known for her true-crime, fiction and biographies, including "Whisper to the Black Candle," the true story of Macon's Anjette Lyles, and "Sidetracked –Two Women, Two Cameras, and Lunches on Sherman's Trail."
"A Southern Woman's Guide to Herbs," is not fussy. It's down-to-earth and includes common-sense planting and growing tips, ways to use, preserve and enjoy herbs and common medical and cosmetic uses.
Recipes range from shrimp and herb pasta and lavender cookies to cocktails. Check out her books at Amazon and visit her website at www.jaclynweldonwhite.com.
The Quarto Group publishers always have excellent books about gardening. From helping kids get their hands dirty growing plants and vegetables to instructional books about hydroponic gardening, the company's selection is broad-based and informative. Here are some suggestions for this year's Christmas gifts:
"Gardening Lab for Kids" by Renata Gossen Brown. Fifty two fun experiments for gardeners to engage youngsters in learning, growing plants, harvesting, playing and enjoying the garden. Check out info about making bird feeders,crafting stepping stones or building a sweet pea teepee.
"The Half-Hour Allotment" by Lia Leendertz. When you only have 30 minutes, here are great suggestions about how to spend it making your garden more productive. It's a practical guide for new and experienced gardeners and covers a broad range of subjects.
"Herbal Adventures" by Rachel Jepson Wolf. Fun outdoor activities for adults and children that describe various cultivated and wild plants, suggests ways to use plants medicinally, and even how to make edible dandelion fritters.
"DYI Hydroponic Gardens" by Tyler Baras. Design and build an inexpensive way to grow plants in water without soil. With detailed instructions and diagrams, it's suited for someone just dabbling in hydroponics or the serious soil-less grower.
"Living Décor" by Maria Colletti. Learn to use living plant materials and houseplants to bring new life to your home. Grow moss-jar gardens, terrariums and succulents.
And for our endangered and threatened pollinators, check out: "The Pollinator Victory Garden" by Kim Eierman. Pollinators, from birds, butterflies, insects, bees and bats, are responsible for more than 95 percent of the world's food sources. Without them, we'd have no grains to feed animals, no vegetables or fruits, no way for plants to reproduce. This book is a comprehensive guide to the importance of pollinators and step-by-step ways to ensure that pollinators can have habitats.
For these and other books, visit www.quartoknows.com. There you'll find a complete selection of books, plus blogs, ideas about crafts and engaging all members of the family in projects and quality time together.
Photo: by Pamela A. Keene