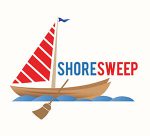 Organizers of the 34th Lake Lanier Association's Annual Shore Sweep once again are hoping – in a good way – to set a new record for trash and garbage collection this year. With new advance drop-off sites and day-of collection points, this year's Shore Sweep on Saturday, September 24, promises to provide even more ways to help clean up the waters, islands and shorelines of Lake Lanier.
"Shore Sweep is always an excellent way to involve large numbers of members and volunteers to advocate for Lake Lanier and support our Clean Lake, Full Lake, Safe Lake mission," said Amy McGuire, executive director of the 3,500-member organization. "To make it even easier this year, we have six advance drop-off locations around the lake and 13 day-of volunteer and collection sites."
The group is seeking volunteers who will bring their boats on the day of the event to assist with trash and garbage removal."
"If you have a boat and can help us, please visit our website and sign up so that we can make the best use of our resources," said Bonny Putney, vice president of operations and Shore Sweep. "We encourage boat owners to bring their families and friends to help. And we'd like to talk with you beforehand about our procedures and the day's schedule."
Opening September 10, advance sites are Gaines Ferry Island, Beaver Island, Wahoo Island and Nix Bridge Island. Shady Grove Park (drop off by boat only) and Gwinnett Park are both advance and day-of locations.
"Advance sites are unmanned locations around the lake that allow people to clean up on their own schedules and drop off trash for the two weeks prior to Shore Sweep," Putney said. "Just look for the advance site signs and be sure to secure all debris high enough so it won't float back into Lanier."
Day-of sites, in addition to Shady Grove Park and Gwinnett Park are Aqualand Marina, Bald Ridge Marina, Balus Creek Access, Don Carter State Park, Gainesville Marina, Holly Park, Lanier Islands Boat Ramp, Lake Lanier Olympic Park/Clarks Bridge Boat Ramp, Port Royale Marina, Toto Creek Park and War Hill Boat Ramp.
In 2021, the association brought together more than 1,200 volunteers to remove more than 85 tons of trash, garbage and debris. Since the annual event began, more than 2.16 million pounds have been pulled from Lanier.
"If you can't make it on Saturday, September 24, then spend an hour or so around the lake ahead of time and bring what you've collected to our advance sites," Putney said. "And if you're coming on Shore Sweep Day, pick up trash on your way to the site for drop off, pick up your supplies first then head out to clean, or do a combination of the two."
"Shore Sweep is a good way to meet other members, volunteer and help the lake all at the same time," McGuire said. "We'll be out there rain or shine, so come join us."
Shore Sweep takes place on Saturday, September 24. Day-of sites will be open from 8 a.m. to 1 p.m. and will provide trash bags and other supplies. Association board and volunteers will be on hand to answer questions.
Register for participation on the website before the event so that organizers will have an idea of the number of people taking part. "This will also help us try to have enough T-shirts for the volunteers," Putney says.
For more information about this year's Shore Sweep, call 770 535-7757 or visit www.lakelanier.org.