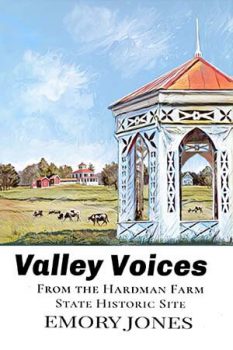 The ground that grew pumpkins, hid quartz-tipped arrows, and dusted up wagons will soon bear the set of the first outdoor drama at a Georgia Historic Site. The past of the Nacoochee Valley, at the headwaters of Lake Lanier, will come alive in early June through the collaboration of a local playwright, Piedmont College Theatre Department, Georgia Department of Natural Resources, and supporting cast of friends. The play, Valley Voices, will bring Hardman Farm Historic Site to life June 2-5 on the very grounds etched by the Chattahoochee River where natives built mounds, settlers rode in on wagon trains, and a former governor launched agricultural innovations.
The setting, in a field behind the elegant 1869 Italianate farm mansion across from the iconic Nacoochee Indian Mound off State Route 75, has long intrigued tourists and history buffs. The grounds have footed travelers for thousands of years, from native American traders to mountain settlers on the Unicoi Turnpike between Dalton and Toccoa. The family of the last original owner/inhabitant donated the 173-acre farm for a state historic site in 1999. It is ripe for an outdoor drama.
Historical setting
Local author Emory Jones, who has written three other plays and seven books rooted in White County and the Nacoochee Valley, envisioned a play on the Hardman Farm grounds about a dozen years ago. He penned a script that retells the site's rich history through colorful dialog between characters and symbolism. In estimated 50-minute performances, audiences seated in lawn and camp chairs will meet principal characters whose stories took place beneath their feet.
"There's nothing like being in the space" where history actually unfolded, said Kathy Blandin, play director and head of the Piedmont College theatre department. "That's what makes this outdoor drama so great, the experience of being in the place where this happened, where these people lived." For the performance venue she chose a meadow behind the mansion just outside the corn crib where a gentle hill buffers noise from the state highway. She had to imagine how to stage entrances and exits on horseback, 17 characters, a black powdered rifle, a cantankerous Model A car, and fiddlers playing Appalachian tunes. She was also mindful of natural elements like sunlight and shade, wildlife, and potential raindrops.
Todd Blandin, set designer and technical consultant, described the outdoor drama as a history lesson in disguise. The director's husband said that audiences will see, hear, and smell the historic valley, plus feel the characters' emotions. "Historical markers are great," he said, but they cannot invoke the sensual impact of outdoor theatre.
Stage manager/production assistant Jonathan Furlow, third year Piedmont theatre major, said students are excited about being a part of the show. "All the pieces are coming together," he said.
Heavy on research
Jones, Blandin and cast developed characters' dialect, mannerisms, and costumes through dedicated research. Most of the non-student cast members have long delved into the valley's history by volunteering in the The Friends of Hardman Farm organization. The Friends group has uncovered layers of the past with documents, state archives, artifacts, interviews with Hardman descendants, letters, clothing, newspaper clippings, photographs and even archaic videos from the Hardman family.
Bobby Watson, who plays farm manager Bob Minish, said he will mimic the gestures and dialect of Minish's still-living grandson, who has shared his memories about the Hardman's farm hand and driver. "He was a family man … I think he was laid back and a very religious teetotaling Baptist," said Watson, who hopes his Model A cranks up on cue to chauffer in Dr. and Mrs. Hardman.
Tom Johnson portrays the intellectual and industrious Dr. Hardman, who was also Georgia governor 1927-1931. He said he studied the doctor's mannerisms in a video taped by Emma Hardman, who was 25 years younger than her husband. He added he will base his depiction on an oft repeated Hardman motto: "Anyone can be clean and on time." Plus, he'll clasp his shirt sleeves and tie in art deco links and pin, similar to what his character wore.
Mary Geidel, who has played Emma Hardman in brief reenactions before, owns probably the largest collection of women's attire from the Hardman era. She said her depiction of the high-society wife whose family spent summers at the farm resonates from the love of Nacoochee Valley lore instilled by her father. Dr. Tom Lumsden wrote a valley history, donated artifacts to establish the Sautee Nacoochee Valley History Museum and helped put the valley on the National Register of Historic Places.
A native American touch
The aura of Native American inhabitants of the Nacoochee Valley is woven through a basket bearing peas, flowers, sandwiches, seashells and tea cakes. Rather than casting parts for the valley's first inhabitants, Jones symbolizes native culture with the prop characters carry scene to scene.
Jones wrote the script in the vernacular of farm inhabitants who relate valley history in everyday conversation. In folksy dialect that decimates standard grammar, Daniel Brown tells his granddaughter about first coming to the valley in a wagon train from North Carolina: "It weren't much more than a hundred mile as the crow flied, but it took all of two weeks. They was more'n fifty families come with us." Dr. Hardman's polished tone and scientific bent comes out in formal dialogue about livestock bloodlines, butterfat, and cow milking.
"I think what really makes it special is Emory's unique storytelling," said Watson. "He has a passion for history and he tells it with humor and unique style."
"I was one of those weird, freaky people who grew up interested in history," Jones said. "I grew up with my grandma and granddaddy hearing old timey stories" about his homeland in White County's Mossy Creek community. Jones currently lives near Yonah Mountain.
Jones feels his script forms just the bare bones of the play. "Five percent of what makes a play is the playwright. The rest is the characters, cast, sets … "
Sarah Summers, the historic site's event coordinator, said she is excited about "bringing the farm to life" in a history-making outdoor drama. She hopes it will become an annual event, adding to the many Hardman Farm activities that give visitors a feel for the land and the people who came before.
Valley Voices Resound at Hardman Farm
About the performance: Valley Voices is an outdoor drama that tells the story of the Nacoocheee Valley and Hardman Farm inhabitants. Audiences bring their own chairs to watch the play outside the historic mansion. Before the show, the cast will mingle with playgoers and musicians will pick Appalachian tunes. Opening act, Doc Johnson's Traveling Miracle Medicine Show will set the stage for a look back at history. Food and refreshments will be available from a food truck.
When: Evening performances June 2-4, gates open 5 p.m., opening act 6:45 p.m.; Sunday matinee June 5, gates open 11:45 a.m., opening act 1:15 p.m. Check website for potential schedule changes due to inclement weather.
Where: Hardman Farm Historic Site, 143 Hwy. 17, Sautee Nacoochee.
Tickets/information: $24.45, www.gastateparks.org/hardmanfarm.
Photos: by Jane Harrison;
Frontpage photo: Tom Johnson (former Ga. Gov. Dr. Lamartine Hardman), Mary Geidel (Emma Hardman) and Bobby Watson (farm manager Bob Minish) enact a scene from outdoor drama Valley Voices.