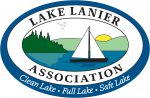 It's going to be a big party for members of the Lake Lanier Association on Saturday, April 23, at Safe Harbor Aqualand Marina. The organization's annual member celebration will feature vendor booths, entertainment and food from 4 to 7 p.m.
"It's going to be a party to kick off the lake season," said Jennifer Flowers, executive director of the lake advocacy group. "We'll be thanking our members and sponsors for their continued support and looking forward to the 2022 boating season."
Entertainment will be provided by Gina Gailey Band. The event will feature a cash bar and food from Fish Tales and Pig Tales.
"Attendees can connect with members of our board to learn about our various initiatives, including Adopt-a-Lake, Shore Sweep, See Something Say Something," Flowers said. "We also want to hear from our members about their issues and concerns."
The event is free for members, but registration is required. Members of the group have been emailed a registration link and details for the event.
To join the LLA, visit www.lakelanier.org. Individual memberships begin at $50 per year. The group will also be accepting membership applications at the event.