The Midland Greenway south of Downtown Gainesville sprawls between former warehouses and current city facilities like a big, fun backyard. Several events and upcoming developments on the urban pathway include this month's Skate the City, Art Walk, and Waterfest. Here's what's happening:

Art Walk 4-8 p.m. April 20 – Art Walk: Murals, sculptures and more
Murals, sculptures and crosswalk paintings share the limelight with other Gainesville aesthetics in the city's first Art Walk 4-8 p.m. April 20. The tour includes a trolly stop at the Midland Greenway for walkers to see colorful works by local artists crafted on warehouse siding, metal fish poised over a pond, standing guard over the dog park, and spanning a side street. Expect meet and greets with artists, refreshments, and live music. The tour also includes stops on Green Street, the Brenau University district, and downtown Gainesville. See www.exploregainesville.com.
– Jane Harrison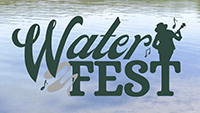 Waterfest on Earth Day, Saturday, April 22 – CRK's Waterfest celebrates Earth Day
There's a new event in town: Waterfest. Organized by the headwaters office of the Chattahoochee Riverkeeper, it takes place on Earth Day, Saturday, April 22, at the Midland Greenway in Gainesville, which is walking distance from downtown.
"Many events and activities are planned for the celebration," said Mallory Pendleton, outreach manager for the headwaters office. "We're encouraging everyone to come out for the day to celebrate water, one of our most precious resources."
A virtual silent auction will feature items such as North Georgia adventure packages and hand-painted water barrels, created by area artists, including Anne Brodie Hill, Fox Gradin, Kristin Davis and Shelley Hassel.
An environmental expo showcases nearly a dozen groups across the headwaters' region: Friends of Gainesville Parks & Greenways, the Hall County Library System, Keep Hall Beautiful, Lanier Canoe and Kayak Club, the Redbud Project and Wildwood Outfitters.
The day includes entertainment by five local bands, area eateries with food and beverages and family-friendly activities.
"Our goal is to reach even more people in the community who call the headwaters' region home," Pendleton said. "Come on out and meet your neighbors, Celebrate Earth Day and have some fun."
The event is free. It is hosted in partnership with the City of Gainesville's Water Department and Gainesville Parks and Recreation.
For more information, visit www.chattahoochee.org or call 678 696-8866.
– Pamela A. Keene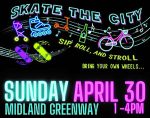 Skate the City 1-4 pm, Sunday, April 30 – Roll around in Skate the City
The return of this fest on wheels rolls in bigger than the inaugural 2019 event. "The original idea was roller skating," said Julie Butler, marketing manager for the Gainesville Parks and Recreation Department. The new rendition invites "anything on wheels – skates, scooters, bikes, tricycles, strollers. We wanted to make it community-wide," she said.
The April 30 party on wheels runs from 1-4 p.m. on the Midland's main line and at the skate park. Midland and downtown area businesses jump in on the fun. A DJ from Silverstar Productions will pump out upbeat tunes. The Inked Pig BBQ and King of Pops will serve up meals and treats. Downtown Drafts will open taps.
More action ollies in at the Gainesville Skate Park on the west edge of Midland, off High Street. A skate competition with beats from "Let There by Rock" music school and eats from Carniceria Tapatia and Gainesville Parks and Rec concessions are planned. Butler said an interactive art project is also in the works.
"The first Skate the City was an attempt to get people on the greenway to skate," Butler said. Since then, the actual skate park has opened, attracting a variety of wheels. On a recent weekday evening, would-be acrobats from elementary-aged kids to middle-aged parents, glided and flipped on the ramps, pools and bowls. "It's an amazing thing for folks to watch. It's beautiful to see all the guys and ladies skating," she said.  For more information, visit: www.exploregainesville.com.
– Jane Harrison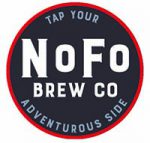 Upcoming Opening Expected in July – Nofo Brew Company coming soon
A former industrial warehouse is being transformed into a brewery, distillery, restaurant and event center expected to open in July. Nofo Brew Company is branching from its roots in North Forsyth to a prominent site on the Midland Greenway. The taps will flow at 434 High Street, SE, on the greenway's main trunkline just south of the dog park and across the pond from the skate park.
"The goal is July 23" revised from an earlier planned opening this month, said Nofo marketing director Eliana Barnard. A rainy winter delayed construction on the 18,000-plus foot warehouse that's set to become a social centerpiece of Gainesville's backyard.
"We're excited. The building is awesome," Barnard said. She added that the greenway, which any day sees people walking, running, skating, kicking soccer balls, and working out, fits perfectly with Nofo's culture. The company's leadership promotes an active, adventurous outdoor lifestyle, from skiing on Lake Lanier or the Rockies, to running and hiking in the Georgia mountains. Soon it will have a place in Gainesville's outdoor heart.
In mid-March, construction workers were reinforcing bricks on the exterior wall. Besides a brewery pouring craft beer and a distillery mixing craft cocktails, the facility will offer three separate event halls and a restaurant. "There are several fantastic restaurants in the running, but the final restaurant has not been decided just yet," Barnard said last month.
– Jane Harrison
Photo: by Jane Harrison