Caleb Clarke recently had a startling revelation. He's the only remaining active member of the University Yacht Club committee that spearheaded the building of the campus' Bulloch Chapel.
"Somehow it doesn't seem that long ago, but looking back, I see how so many times God just worked to bring us together to create this wonderful spiritual family at UYC," said Clarke, who serves as assistant fleet chaplain at the private club on the south side of the lake in Flowery Branch. "Over the years, from weekly services May through early October, weddings, baptisms and memorial services, Bulloch Chapel has been the spiritual core of our club family."
On September 5, members came together to commemorate the chapel's 30-year history. A special Sunday service saw the pews of the rustic open-air rustic-beamed chapel filled to overflowing. Congregants celebrated communion, recognized key events in the chapel's 30 years and heard from members and guests who had special memories to share.
Looking back
From the early days of University Yacht Club, founded in 1951, chapel services have taken place.
"Chapel has been a vital part of the fabric of this club since the beginning," said Clarke, who with his wife Mary joined the club in 1987. The next year he was appointed to the board as chapel chairman. "I can remember meeting on the side porch of the clubhouse. It wasn't enclosed, so we were pretty close to nature. At one point it was screened it, but somehow it didn't feel quite the same."
As clubhouse renovations began in 1990, suddenly the former chapel space was to be incorporated into the dining room.
"All of a sudden, we had to do things quickly to find a new location on the campus and build a facility for our weekly services," he said. "We needed to raise money to fund it and come up with a design."
Fundraising turned out to be simple. Board member Jack Frye, an architect, developed the design and priced it out. It was to be an open-air pavilion with a beam ceiling, located on one of the highest points at the club.
"We got together and appointed a captain for every dock, and within a week, they had raised the exact amount of money that matched Jack's estimates," said Clarke, smiling. "That was much more than a coincidence."
Once it was built, the question of seating was discussed; should they install bolted-down pews or use removable chairs? "Some of the members wanted it to be a flexible space for events and receptions; others wanted it to be strictly used as a chapel and for religious activities.
"In the end, we decided on pews. Our then-general manager Howard Giddens came up with another idea: the pews cost about $40 to make and we could sell them for $100 each, putting the donor's name on them. That earned us enough extra money to fund our lectern and a table we use as an altar."
The chapel was named in honor of The Rev. Frank Bulloch, who was Fleet Chaplain from 1978 until he retired in 2002. "Everyone at the club knew Frank, who was loved and respected for his humor, preaching and wise counsel," said current Fleet Chaplain Bruce Shortell.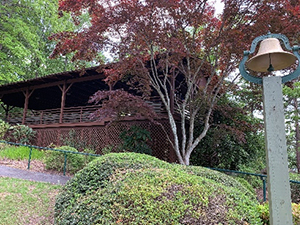 Weekly services
Since September 1, 1991, the chapel has changed little. Weekly services are held starting at 10:30 a.m. on Sundays from May through the first weekend in October.
"Anyone is welcome to come to our services," said Donna McGrath, co-chair of the chapel committee with Betsy Wolf. "We are a very open and accepting group, offering a wonderful place to worship."
Shortell and Clarke share pastoring. Typically Shortell, who was assistant chaplain off and on from the 1980s and has been full-time fleet chaplain since 1997, leads services three times a month and Clarke once monthly.
"The chapel is truly a holy place where people regularly report that they have felt God's presence," Shortell said. "Many people are drawn to the chapel on the hill and tell me they rejoice that their life has been transformed standing on that 'holy ground.' "
Guest speakers and members of the club often share their testimony at the weekly services. Betsy Wolf leads the music and sometimes guest performers or members will sing special music.
Special events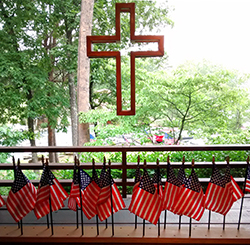 Events recognize Mother's Day and Memorial Day that honor veterans and those who died fighting for America's freedom. A healing service, blessing of the pets and other observances take place in the chapel, including weddings, baptisms and memorials.
"For the Fourth of July services, Eagle Ranch Founder Eddie Staub comes to speak and some of the graduates from Eagle Ranch will share their testimonies," she said. "At that service we present a check to the ranch collected from offerings and donations. We also support Eagle Ranch at Christmas as well with another donation from members. They're our only fund-raising recipient for Bulloch Chapel."
Sunday services are interdenominational and open to the public.
"Bulloch Chapel is such a peaceful place among the trees on the hill overlooking Lake Lanier," McGrath said. "You can really feel the presence of the Holy Spirit here. We truly encourage anyone to come and join us. All are welcome."
For more information visit www.universityyachtclub.org or call the club's office at 770 967-2814.
Photos: courtesy of Craig Wolf