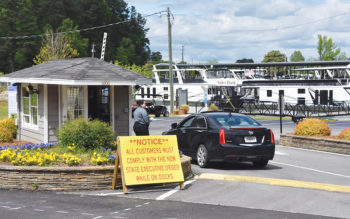 Lake Lanier's marinas and boat rental concessions have, for the most part, remained open and operating during Georgia's shelter-at-home, social-distancing orders. But it's not business as usual.
Marinas, including Holiday and Sunrise Cove, Aqualand, and Hideaway Bay have posted large signs urging people to maintain social distancing and not gather in groups.
"We're clearly enforcing social distancing throughout the property," said Alex Laidlaw, Vice-president with Westrec, which owns Holiday, Lazy Days at Holiday, and Sunrise Cove. "We've hired off-duty police offers to assist on the weekends."
Most marinas' fuel docks and pump-out stations are open as well, but staff are practicing social distancing and reminding visitors to do the same. Some, such as Gainesville Marina, are still operating their service departments. Boat sales are typically done by appointment.
Boat rentals and clubs
Several of Lanier's half-dozen boat-rental concessions have remained open under the social-distancing mandates.
SunRise Sail, the umbrella organization for SunRise Sailing Club and SunRise Sailing Academy is not currently accepting new members, but current members are coming to use the boats as long as they have received the required instruction before the social-distancing mandate.
"Our sailing school has been closed since March, but we are looking forward to phasing in our re-opening," said Dan Kingery, owner of SunRise Sail. "Our members are coming out in groups of one to 2 for the most part and we're completely sanitizing our boats between uses.
"The lake really looks like the Fourth of July because of all the boaters," Kingery said. "I guess people feel isolated enough when they're out on the water."
At Gainesville Marina, staff is limiting the number of people on the rental dock at the same time. "We're allowing a maximum of six people, all living in the same household, to rent and we are staggering the boat departure and arrival times," said Philip Burton, general manager at Gainesville Marina. "Depending on what happens in May, some of our processes may be more relaxed."
Port Royale is continuing its boat rentals within the guidelines, limiting the number of people on each boat, and scheduling rental appointments only by phone. They're scheduling a maximum of two rentals per hour.
Carefree Boat Club, a members-only boat club, has been busy with rentals. "We've been packed for members using our tritoons, bowriders, surf boats, and fishing boats," said David Rothwell, owner of the organization that's based at Lazy Days. "Groups of less than 10, immediate family, are coming out to enjoy the lake, and we're seeing a lot of first-time boaters."
Rothwell, like other rental outlets, said that each boat is thoroughly sanitized and cleaned between rentals. "We're always accepting new members, so we hope people will come out and give us a try."
Nautical Boat Club, located at Lanier Islands' Harbor Landing, offers pontoons, wake boats, and ski boats. "We've been very busy," said Tim Kiser, owner of the club. "People have heard that it's a good thing to be outside. Every day has been like a weekend for us."
Before you decide to rent a boat on Lanier, call ahead to check availability and guidelines.