Each year America's Boating Club Atlanta plans a boating trip for members and guests. However, with the pandemic, plus some hurricane action, the group's trip to DeLand, Florida, and Hontoon Marina and Resort took a bit to materialize. Planned for last March, thanks to diligent leadership, 19 members of the club finally made it to the St. Johns River in early November.
Visiting DeLand is always a treat for me because I graduated from Stetson University there. Another of our members also attended Stetson, and we often talk reminisce about what the town was like in the 1970s and how it's changed.
Activities in West Volusia County
This trip, I was able to visit with Georgia Turner, executive director of the West Volusia Convention and Visitors Bureau, VisitWestVolusia.com, and learn about the latest in DeLand and surrounding areas. Georgia, and the bureau's president Doug Little, helped make our trip successful and fun. They both assisted by sharing their local knowledge as we planned, and Doug, who owns St. Johns River Eco-Tours, wowed our group with an amazing boating excursion to find wildlife in some hidden places along the river.
Georgia brought us up to date about all the happenings in DeLand and West Volusia. Although the pandemic has slowed visitation, folks in tourism are becoming more innovative about ways to bring people to their destinations.
"DeLand continues to add more reasons for people to come here and stay a while," she said. "We have added several new breweries and have an excellent selection of eateries that include Cuban, Italian, American, barbecue and comfort food, so you can almost be a world traveler and stay right here."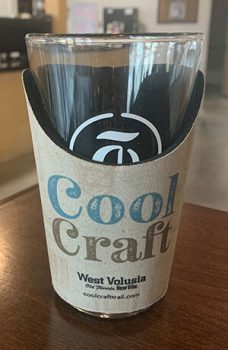 The newest way to dine and sip your way through West Volusia County is its CoolCraft Beverage Trail. "From wine, local craft beers and meads to smoothies, teas and coffees, you can experience our area at your own pace," Turner said. "We've designed a map to make it easy, and people who share their top five beverages on Instagram at #CoolCraftTrail and follow us @VisitWestVolusia can win a free pint-glass koozie."
Georgia was able to help us find a good assortment of dining choices to accommodate our group of 19 for our four-day, three-night trip: The Stockyard, specializing in beef; Astor's Blackwater Inn, known for its amazing service and fresh seafood; and Pitmaster's Barbecue that offers some amazing comfort foods like fried green tomatoes and traditional barbecue.
On the water with the club
The goal of the trip was to see manatees at Blue Spring State Park. We boated to the park and came ashore in dinghies. The park's boardwalk offers great views of wildlife, including birds and gators. The first part of November was a bit early to see many of the lumbering underwater mammals, but several in our group glimpsed them swimming in the spring run. The park participated in manatee tracking and tagging to monitor the population; many of the same manatees return to Blue Springs as their winter home, but they also head to Homosassa Springs and Crystal River on the west coast of Florida.
Our afternoon wildlife boat excursion, led by naturalist Doug Little, took us back into several tributaries and to Mud Lake, where much of the birds and wildlife had retreated because of high water levels in the river. Cameras whirred as we spotted little blue herons, great blue herons, snowy egrets, a wood stork, anhingas, limpkins, ibis and a couple of endangered plants.
One member brought a pontoon boat, another brought a jet ski and we had a few member dinghies at our disposal. We had plenty of free time to explore the area on our own.
Several of us made a trip to Kermit's Key Lime Pie near the DeLand Airport to bring back authentic Key Lime pies. Another group discovered Barberville's Yard Art Emporium with more than two acres of brightly painted yard art, statuary and furniture. Several large metal flamingoes, pottery turtles and even a Grinch are now new residents of metro Atlanta.
Joining the club
America's Boating Club Atlanta is an organization of volunteers that focuses on social activities, boating education and helping more people enjoy both on-the-water and on-the-shore activities.
Previous trips have included visiting the Tennessee River, the British Virgin Islands, the San Juan Islands in the Pacific Northwest and parts of the Intracoastal Waterway. Membership is open to the public who pay annual dues; you do not need to own a boat to join. For more info about the club visit AmericasBoatingClubAtlanta.org.
Photos: Dave Fuller