Did 2020 give you the blues? Resolve to put a little more lake in your life this year. Lake Lanier beckons each month with possibilities to brighten perspectives for those seeking solace, camaraderie, or exertion on the blue expanse close to home. Don't have a boat or lakeside property? No need. The lake's big enough and opportunities broad enough to welcome even the landlocked cul-de-sac dweller to the water's edge. Here's a month-by-month suggestion calendar to get you out there:
January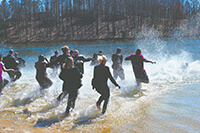 Winter Beach Bash/Polar Bear Swim: Run away from 2020 and into Lake Lanier on New Year's Day at Lake Lanier Olympic Park. Instead of the traditional plunge from the docks, this year's Polar Bears will sprint into the water to dip toes or dunk heads. Attendees can grab hot grub from a food truck and marvel at marshmallow showmen.
Birding for winter migrants: A different population from the summer crowd flies in for winter. Waterfowl from the north seek respite from frozen climates on Lanier's warmer waters. Find a lakeside park or peninsula with a clear view to look for loons, hooded mergansers, and possibly eagles swooping down for fish. Take binoculars.
February
Love the trees: Honor the silent natural sentries of Lanier's 700 miles of shoreline with a personal tribute to the roots, trunks and branches that protect the aquatic environment and wildlife on land. There's no need to attend a formal Georgia Arbor Day Celebration Feb. 21. Venture out to the water's edge and admire the silvery limbs quivering in the breeze or emerald needles glistening above the blue. Hug a tree. Take a beautiful photo.
Crappie anyone?: On the night of the full moon, Feb. 27, wrap up and carry a bucket of minnows, cooler, lantern and fishing rods with bobbers to a dock or lake bank near you. Lantern lights attract bugs, bugs attract minnows, minnows attract bigger fish. Get set for a night of pulling in the crappie. Hint: try the fishing pier at Don Carter State Park or bank fishing at Wahoo Creek Park.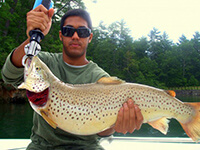 March
Trout fishing: Although all Georgia trout waters now permit year-round fishing, for many anglers March remains the traditional month to tie the flies, hitch up the waders, and swoosh the line. Try the Chattahoochee River, just below Buford Dam, or cast into the Lanier headwaters on the Chattahoochee near Helen. 
Regatta time: Get roused up the first weekend of spring with a rowing regatta at Lake Lanier Olympic Park when the John Hunter Regatta returns (hopefully) March 20-21. Crews from across the Southeast take up oars in a season opener on the Olympic channel, showing off the athleticism, grace, and camaraderie of this historic water sport.
April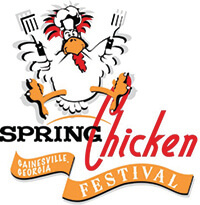 Spring Chicken Festival: Ahh … spring is finally here! Head back to Lake Lanier Olympic Park for a chicken cook-off, music and fun on the plaza. Check Gainesville.org for dates.
May
Laurel Ridge Hike: The Georgia mountains aren't the only domain of the delicate snowflake-shaped flower that opens in late April and May. See it in full bloom while hiking the Laurel Ridge Trail starting and ending at Lanier's Lower Overlook Park near Buford Dam.
Learn to row: Get a total body workout in a sport that combines endurance, strength, skill and feathering the oars. The Lake Lanier Rowing Club plans its first Learn to Row sessions in May. Join the crew.
June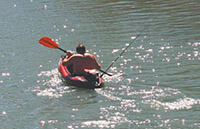 Just try it under your own power: You don't need a motor-boat to get out on the water. Several sites, including Don Carter State Park and Lake Lanier Olympic Park, offer canoe, kayak and stand-up paddleboard rentals all summer long. The Lanier Canoe & Kayak Club can put a paddle in your hand and get you out there on a quiet cove.
July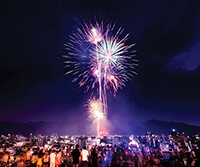 Celebrate Independence Day: Big celebrations may make a comeback! Stay tuned for fun and fireworks at Laurel Park and Margaritaville at Lake Lanier Islands. Or stay back and watch from nearby coves at dusk July 4 as colorful explosions burst from those popular venues. Get a head start the night of July 3 when the University Yacht Club's private party shoots off fireworks visible from Burton Mill Park and vicinity.
August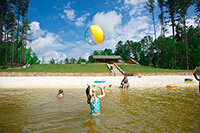 Head to the Beach: No need to drive hours for a sandy respite in the sun. Wiggle your toes and pitch your beach umbrella in tons of white sand on the lake. Whether it's at a lake park or a secluded island accessible only by boat, there's a beach near you.
September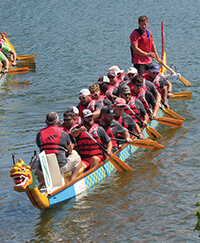 Multicultural celebration: There's nothing like it on the lake – the Atlanta Hong Kong Dragon Boat Festival. Brilliantly colored boats outfitted with dragon heads and tails manned by 20-person teams race the Olympic channel while drummers furiously pound a rhythm. Cuisine – from southeast Asian eggrolls to north Georgia barbecue – simmers and steams on the plaza. Costumed acrobats and dancers, including a writhing dragon manipulated by multiple actors, prance to exotic tunes. It's all happening Sept. 11 at Lake Lanier Olympic Park.
October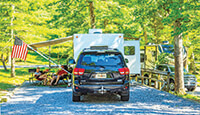 Pitch a tent, pull up an RV: As the weather cools and leaves begin to turn, Georgia mountain campsites begin to fill. Instead, set up camp on the lake, where blue water makes the perfect backdrop for leaf looking. Add some fishing and perhaps a farewell to Indian summer dip (if you dare) to complete a lakeside autumn retreat. Many Corps parks provide tent and RV camping, as do Corps-city/county parks such as River Forks Park, Bolding Mill Park, and War Hill Park. In addition, Don Carter State Park, a Georgia State Park, has campsites available.
November
Headwater hike: See where it all starts. Venture north of Helen for a five-mile round trip hike to Chattahoochee Gap to see the spring that gives birth to the major tributary of Lake Lanier. A primitive sign at the intersection of the Appalachian Trail and Jack's Knob Trail points the way to the Chattahoochee River's source, a trickling spring in the Georgia mountains.
December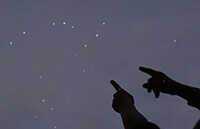 Stargaze: As the longest night of the year approaches Dec. 21, look up into the darkness and muse about endless possibilities for the coming year. On a clear night on the lake, a myriad of stars sparkles, illustrating the countless opportunities for future joy and discovery. Put a fire in the firepit, build a small campfire, roast some marshmallows, toss a pebble in the water, meditate on the coming year.
Holiday Boat Parade: See watercraft, from bass boats to houseboats, decked out in holiday lights in a parade from Port Royale to Buford Dam and back to Margaritaville on Lanier Islands (route may change). Decorate your boat for the festive cruise, watch by water or find a spot at a marina or along the shoreline to enjoy the holiday lake tradition.