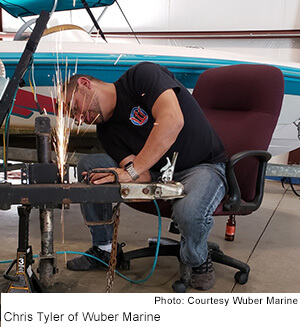 If it's related to boating, boat care and services on Lake Lanier, Chris Tyler's Wuber Marine can probably help. Starting out in April 2018 as a water-taxi service, he has expanded the business to take care of boaters. The company recently opened a brick-and-mortar location in Gainesville and also works remotely.
From weekly and monthly boat visits to inspect, start engines and perform regular maintenance to remodeling interiors and boat repairs, Wuber Marine serves boaters.
"We have added so many ways to serve boaters, including our boat-monitoring service and concierge," Tyler said. "People around the lake have asked for more than just a safe way home for themselves and their  boats; they are now turning to us for audio and lighting, upgrades and even captained charters on the lake."
Tyler, a native of the Midwest who started boating around age 7 or 8, is a veteran of the US Navy, leaving the military in 2008. The Navy transferred him to the Atlanta area and he liked it so much he decided to stay. With his time in the Navy and a degree in mechanical engineering, he's become a jack-of-all-trades.
Along the way, he earned his US Coast Guard 100-ton Captain's License with a towing endorsement. It allows him to hire out as a captain and to towboats.
"With the water taxi business, people call us for rides back to their docks or marinas for themselves and their boats," he said. "Not only do we take people to their docks or cars, we bring their boats with them so that don't have to go back later and pick them up.
"Business was growing by word of mouth, but we started getting other requests for repairs, remodeling, cleaning and detailing. From there it has just blossomed."
Tyler's new app, Wuber LLC, allows for quick communications, scheduling, lining up services and corresponding with his customers. His boat concierge service offers a regular schedule for inspections, battery checks, ensuring lines are secured, systems are working and other services. He also makes vinyl boat logos and other stickers.
Before he set up his business on Lanier, he approached the Corps of Engineers about being approved.
"The Corps approved our business model and our work, so it has made it much easier to run the business," Tyler said. "I knew from the beginning that I had to go about it the right way and that's just what we have done."
Tyler said the key to his service is attention to detail and prompt responses.
"We may be operating on the lake, but we certainly don't work on lake time. We're punctual and professional," he said. "If you're not sure what you need, or if we do it, just ask," he said. "It's all about getting the work taken care of for our customers."
Wuber Marine is located at 1611 Oakbrook Drive, Gainesville.
To contact Wuber Marine, go to their Wuber Marine Facebook page or call or 470 323-1640.