People in north Georgia grew up with Magical Nights of Lights, and to some, it was like an old friend. From marriage proposals and weddings to family gatherings to enjoy the show, the 6-mile drive-through holiday extravaganza has been retired.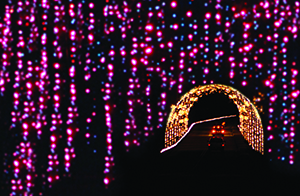 Opened in 1992, the traditional holiday light show started small. According to news reports from the 20th anniversary of the event in 2012, the first show had only 40 displays. Opening night back then saw only 70 cars of guests drive through the resort to tour spectacular light displays.
Over the years, Magical Nights of Lights grew to nearly 750 displays, plus a hundred or so tree trunks wrapped and draped with strands of twinkling white lights. The traffic circle in front of the gates morphed from showcasing a 25-foot lighted Christmas tree to becoming a revolving carousel, all portrayed through the magic of lights and electricity.
Pony rides, ice skating, fire pits for roasting marshmallows or just staying warm, and a carnival ride amusement park kept families of all ages entertained as they celebrated the holidays.
For a time, live nativities presented by Blackshear Church and Free Chapel was a highlight of special nights.
People came by the busloads from as far away as northern Alabama, southern Tennessee and the Carolinas.
About a dozen years back, a Lakeside reporter got a call about a special event happening during the show. "My brother is proposing to his girlfriend tonight and we want you to get some photos," the caller said. "Can you please come out and take a photo? I know she will be so surprised."
The paper sent a photographer, and the photo and caption ran in Lakeside that holiday season. It was just one of many special things that took place against the backdrop of Magical Nights of Lights over the past years, many that will be remembered by the families and friends who made the drive from around the Southeast to get their dose of holiday cheer.
Times change and this year begins a new tradition at Lanier Islands, with Margaritaville's Lakeside Lights Spectacular. And with it, a whole new set of memories begin.