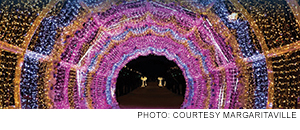 Making its debut at Margaritaville at Lanier Islands, Lakeside Lights Spectacular will open November 20 and continue daily through January 5. After that, it will be open on weekends and holidays. It is taking the place of the nearly three-decade run of Lanier Island's tradition, Magical Nights of Lights.
"We feel blessed that the Magical Nights of Lights has played so heavily in the holiday traditions of countless families around the South," said Grier Todd, vice president of operations for Lanier Islands. "While we are sad to say goodbye to the Magical Nights of Lights, we are excited to see the reaction from our guests to Safe Harbor's new interpretation.
Featuring state-of-the-art light technology that truly showcases the lake, the all-new, open-air Lakeside Lights Spectacular allows visitors to travel at their own pace and snap selfies all along the way.
A walk-through light display along the shores of Margaritaville, the Lights Spectacular includes many of the activities familiar to families who visit the resort during the holidays. License to Chill Snow Island is back with its 575-foot Parrot Mountain snow tube ride. Ice skating, carnival rides, snow play and Santa will be there.
Bumper cars, a carousel ride, and Ferris wheel are highlights at the Snow Island Amusement rides. Snowball Alley's snow, created by massive snow machines, allows guests to have snowball fights and make snow angels.
Several food stops along the stroll include Glacier Care for burgers and chicken tenders. Jack Frost's Shark Shack serves chicken tenders, curly fries and pretzels. Santa's Tiki Bar serves up popcorn, cotton candy and sweets, along with craft beer and specialty cocktails. Rudolph's Landing's light snacks are complemented by S'mores kits to take to the giant fire pits.
Lakeside Lights Spectacular opens Friday, November 20 and continues through Tuesday, January 5. Weekend hours begin Saturday, January 9, and continue through Sunday, February 21, plus the King Holiday and Presidents Weekend.
For more info and tickets, visit www.margaritavilleresorts.com.