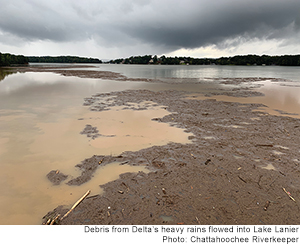 Portions of the shoreline at Lake Lanier suffered heavy damage from the remnants of Hurricane Delta in early October.
"This was a 25-year storm event that brought an immense amount of storm-water runoff from across the headwaters of Chattahoochee into Lake Lanier," said Dale Caldwell, headwaters director for the Chattahoochee Riverkeeper in Gainesville. "In addition to severe erosion, this much stormwater runoff can threaten the water quality of the lake. Every bit of pollutants from construction and industrial sites, plus oil leakage from vehicles, possible E.coli from pet and wildlife waste and excess chemicals from fertilizers and pesticides could end up in the lake."
As part of its work, the Headwaters office staff and volunteers regularly monitor possible pollutants in the lake. They take samples and, when an issue is found, they work with the Georgia Department of Natural Resources Environmental Protection Division and local governments to address concerns.
"We continue to appeal to area citizens and businesses to be mindful of how they deal with possible pollutants," he said. "From tossing out cigarette butts or not cleaning up after your pet to companies not installing proper silt fencing or dealing with construction site runoff, there's a cumulative effect that has immediate and long-term consequences.
"If everyone did their part each and every time, our waterways would be much cleaner."
Litter Gitter report
Last month, the Chattahoochee Riverkeeper released a report summarizing a one-year study of a new way to collect trash in the river. Called the Litter Gitter, the small-stream collection devices were installed along a portion of the Chattahoochee near downtown Atlanta along Proctor Creek.
In the 16 months the Litter Gitters have been in place, more than 1,100 pounds of trash and debris were collected. That included recyclable plastic beverage bottles, plus non-recyclable plastic bags and Styrofoam products. Litter Gitters are manufactured by Osprey Initiative.
"At this time we will continue the use of Litter Gitters in Proctor Creek and will be adding them to portions of Sweetwater Creek," said Jordan Yu, the Riverkeeper's watershed protection specialist. "The report will help other cities, businesses and non-profits make decisions about implementing their own trash reduction plans.
For more info or to read the report, visit Chattahoochee.org.