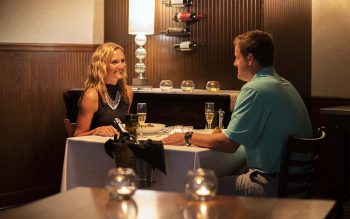 Locals and resort guests alike can now enjoy special dining experiences at Lanier Islands and Legacy Lodge.
"We are so excited to offer white-tablecloth dinners at Sidney's on Friday and Saturday nights," said Missy Burgess, marketing and public relations manager for Lanier Islands. "And we're offering a classic Thanksgiving dinner with all the trimmings on Thanksgiving Day, so make your reservations soon."
The full-service menu at Sidney's offers a wide selection of starters, such as crab cakes and charred hearts of romaine or a cheese and charcuterie selection. Land and sea choices range from chicken or beef tenderloin to diver scallops or fresh fish.
Hours for Sidney's are breakfast Monday through Friday, 6:30 a.m. to 10 a.m. and Saturday and Sunday from 7 .am. to 11 a.m.; Friday and Saturday dinners are served from 6 to 9 p.m.
Additionally, Legacy Lodge has opened its Lobby Bar on Friday and Saturday evenings featuring a full bar, signature cocktails and tapas.
Opened last spring, Game Changer has become a popular family entertainment option. It was recently expanded with more choices for all ages.
"Game Changer's diverse experiences range from virtual sports suites and challenge golf to arcade games and ax throwing," she said. "And we recently added bingo, music bingo, football watch parties and Keno."
Game Changer will be open all winter except for Thanksgiving and Christmas Day.
For more details, to view the most recent menus or for specific hours, visit www.lanierislands.com. For reservations: 770 945-8787.
Photo: courtesy Lanier Islands