The first day of fall is Saturday, September 23. I know many of us can't wait after this brutally hot summer.
Globally, we saw record after record tumble. Many locations were seeing high temperature records shattered. The nice, cooling afternoon thundershowers we see in north Georgia were replaced by a barrage of severe storms with 60-70 mph winds with several tornadoes touching down. I never remember tracking tornadoes during my 40-year tenure at WSB during the month of August.
If you were having any doubts about climate change, 2023 has been a wake-up call. However, I do believe we also had some help from a volcano that erupted in 2021. The Tonga volcano eruption occurred in December of 2021 but peaked in January 2022 when it dumped thousands of tons of material into the surrounding air. The volcano is located about 65 miles north of Tongatapu, Tonga's main island, submerged about 500 feet beneath the ocean surface.
When it erupted, it released the normal volcanic mix, but it also carried an incredible amount of water (in the form of vapor) with it. The resulting cloud produced the most impressive lightning storm in recorded history. When the volcano erupted it sent the water equivalent of 58,000 Olympic-size swimming pools into the stratosphere, several miles above the planet's surface. The water reached a layer of the atmosphere called the stratosphere, higher than where commercial keys fly. The stratosphere exists between some eight to 33 miles above Earth's surface.
The eruption boosted the water vapor content of the stratosphere by 10 to 15 percent. This water vapor acts as a greenhouse gas, trapping heat around the globe.
In this atmospheric layer, cool, heavy air rests below less dense warmer air. Because there is little turbulence to move or mix up this water vapor, it's likely to be around for several more years. That means temperatures here and around the globe may be much warmer than normal for a while.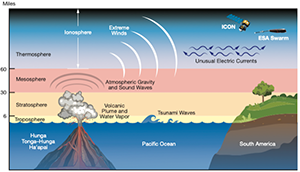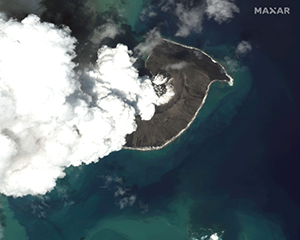 The Hunga Tonga-Hunga Ha'apai eruption on Jan. 15, 2022, caused many effects, some illustrated here, that were felt around the world and even into space. Some of those effects, like extreme winds and unusual electric currents were picked up by NASA's ICON mission and ESA's (the European Space Agency) Swarm. Image not to scale.
Photo: NASA's Goddard Space Flight Center/Mary Pat Hrybyk-Keith.