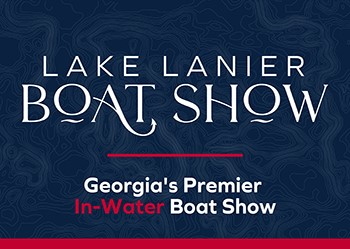 The inaugural spring Lake Lanier Boat Show, March 3-5, promises more dealers, more models, more boats and an expanded show. Taking place at Margaritaville at Lanier Islands, the show is presented by the Marine Trade Association of Metro Atlanta for boaters in Northeast Georgia.
"The spring show will feature more boats than our fall show," said Tabor Reins, president of the Marine Trade Association. "We have added more vendors, food options and activities for the whole family, plus our dealers are all well stocked for the 2023 boating season."
Organizers are predicting more than 250 boat models representing more than 50 brands sold by local dealers.
"We will have a full selection of our brands, as well as a number of pre-owned boats," said Larry Sosnow, vice president of sales at Atlanta Marine. "The fall show far exceeded our expectations and we were very pleased with the turnout. Given good weather, we should have another great show."
Sosnow said that inventory has returned to pre-pandemic levels and that bodes well for prospective boat buyers and dealers.
"There will be boat-show specials just in time to get folks back out on the water for this year's boating season," he said. "Our employees are very excited about this spring show.
The show will take up all the in-water slips and docks at Margaritaville.
"One of the benefits of our show is that many of the boats will be in the water and visitors can walk the docks to board them, speak with the dealers and learn about them," Reins said. "At this show we will have even more boats in the water, but we have a great setup on land as well. This allows for us to have plenty of boats to showcase for our visitors."
Vendors ranging from dock builders to marine accessory suppliers will be set up in the parking lot. There will also be food trucks and LandShark Landing will be open. The weekend features entertainment – country/rock musicians Owl Creek Band on Saturday and Southern rock on Sunday featuring the Robby Litt Band. Both shows begin at 1 p.m. on the floating stage near LandShark Landing.
In addition to boat sales, local angler Ken Sturdivant of Southern Fishing is facilitating fish tank demonstrations and fishing seminars.
"Dealers will be on hand to talk everything boating," Reins said. "They can give pointers about towing, hitches, storage and accessories, anything a new boater or a seasoned one needs."
The show's lead sponsor is Transcend Roofing Systems, which is sponsoring a boat prize giveaway.
Tickets for the show are $15 per person, which includes parking. According to the website, all attendees and the public are required to come via land. Vendors and food trucks will be set up in the parking lot. For more information, visit www.lakelanierboatshow.com.