When people hear the word "recession," they automatically assume the housing market is going to crash. Rest assured, that is NOT the case this time. In fact, real estate often stays steady during a recession. The extreme housing challenges of 2008-09 were mostly due to a mortgage crisis which will not be repeated this time.
A recession is defined as two consecutive quarters of a decline in the Gross Domestic Product (GDP), and we saw that this year. While the news outlets report the looming recession like it's Godzilla at the city gates, many factors indicate it is likely to be mild. Employment right now is near record highs. The two declines in GDP were modest. There is still a shortage of inventory, so demand still exceeds supply. The problem right now is with mortgage rates which follow inflation. The Fed froze these for several months while inflation was starting to rise. Once the freeze was lifted, the rates rose quickly to catch up with the inflation. In January of 2022, the rate was around 3.5% for a 30-year fixed mortgage with 10% down. In mid-November of 2022, the rate is around 6.2%. Don't follow the crowd and let this deter you from buying a home. It does not mean your mortgage payments have doubled because there are other factors in play. One of Warren Buffett's most famous quotes advises us to be, "fearful when others are greedy, and greedy when others are fearful." Too many people are fearful, so now's your chance.
During the seller's market frenzy of the past few years, there was such a shortage of homes for sale and unprecedented demand from buyers looking to escape the crowded cities during the pandemic, almost every transaction resulted in multiple offers, no contingencies, and a sales price well above list price. Homes were purchased without inspections, financing or sales contingencies were almost unheard-of, and buyers took big risks with every transaction. Today, we are shifting back to a normal market where sales prices are often below list, contingencies are tolerated and most importantly, virtually all contracts include a due diligence inspection period. Consider the accompanying chart.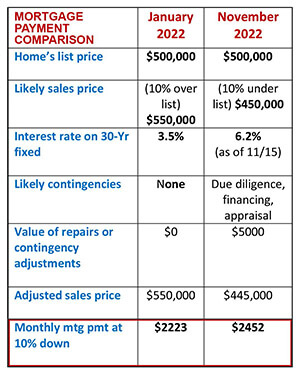 As you can see, payments have not doubled, and we can all benefit from a normalized market. First and foremost, the transactions are safer because you can now have inspections and contingencies. If you find a big problem during due diligence, you do not have to lose your earnest money to get out of the contract. These days, buyers are not required to have cash to "win the bid" on a home. Contingencies are likely to be allowed. Unless the home is already priced below market value, buyers often get a percentage off the list price as well as other considerations. If the house has a major flaw, the current owner will probably have to fix it before closing which saves the buyer a world of money and headaches. For just a little more money a month, buyers can live their dream on Lake Lanier and without losing sleep over hidden defects. Plus, there are definitely mortgage programs that can lower your rate.
Prices have come down a bit; but especially on the lake, they may not fall much more. Sellers are not going back to pre-frenzy prices. Many of the factors that drove the prices up, including big-city crime, traffic, ability to work at home, stay-cation mentality, etc., are still present. Yes, rates have gone up, but experts predict that they will be around 5% by the beginning of 2023, and the pent-up demand created during the buying lull (caused by rising rates) will drive the market. If you want to kick yourself for not selling during the frenzy, consider this. Yes, you might have sold the house for a little more, but then you'd have to turn around and buy a house in the same seller's market. What you gained as a seller, you'd likely lose as a buyer. Today, sellers probably have more equity in their homes than ever, and appraisals are more likely to come in at the sales price. Plus, buyers are less likely to bail on the transaction if they feel like they are paying a fair market value. This was a problem during the frenzy.
A normal, balanced real estate market is better for all of us. Most of the time, if you're selling you're probably buying, too; and buying was a challenge for everyone. It is best to work in a healthy market where contingencies are the norm and transactions are likely to close. Stay calm, ignore the negative press, and enjoy living on the lake. Your investment is safe.