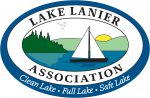 In the new year, the Lake Lanier Association is taking its community outreach and initiatives to a new level. From switching to a more secure online membership renewal system to expanding its business partnerships to support its missions, the organization has been working behind the scenes over the past six months to make some changes.
"So many exciting things are going on with the association," said Sheila Davis, vice president of marketing for the Lake Lanier Association. "We're expanding our initiatives to further engage our membership with new volunteer opportunities. Our community outreach on all levels is being stepped up."
With between 3,500 and 4,000 members, the Lake Lanier Association administers a variety of programs, including Shore Sweep, which has continued to break records for the past five years with the amount of trash, garbage and debris collected around the lake each September, and the annual member celebration each spring, which brings together members for social time to get to know each other and learn about ways they can work together for the good of Lake Lanier.
The group's new online membership system provides easy and secure steps through an automated system for members to join, renew and update their personal information.
"The new secure 'no password' technology will help us with more timely renewals and improved communication with members," said Amy McGuire, executive director. "Each member will have their own account with us that includes an email component to help us inform members more quickly about activities and opportunities."
Other initiatives include amping up business partnerships.
"Working with our business members in a strategic way creates a win-win," McGuire said. "When we partner with businesses it signals strong support from the community for our mission. I call it the power of the collective: everyone working together toward a common goal, in this case, good stewardship of the wonderful resource that is Lake Lanier. It makes good sense."
In the coming year, the association will be offering more volunteer opportunities for member engagement, from manning booths at boat shows and public-facing events to assisting with projects in the office.
"Our members are our greatest assets," said Amy McGuire, executive director of the organization. "They can be our ambassadors and tell our stories, so we can tap into their talents. Many of these improvements and initiatives are designed to reach them and make it even easier to become engaged with us."
Plans are in the works to move into new offices in the coming year, perhaps as early as the first quarter, although a location has not yet been chosen.
McGuire was hired as executive director last summer and she said that since coming on board, she's been pleased with the amount of support from members and the community.
"From the beginning, there have been so many 'yesses' from people when we reach out," she said. "When it benefits the lake, everyone wins and our momentum is really growing. 2023 is going to be a great year."
For information about the Lake Lanier Association or to join, visit lakelanier.org.